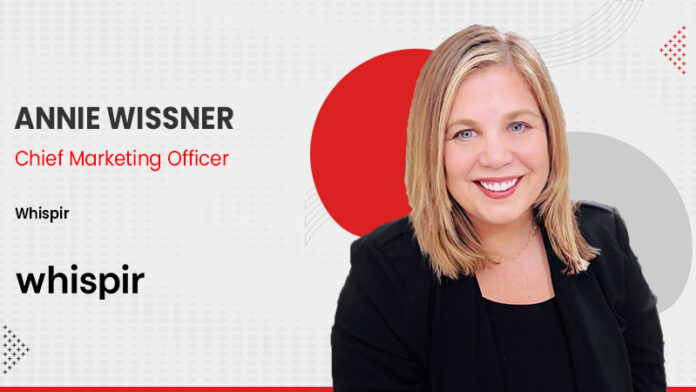 Hi Annie, could tell us about you your journey in Martech?
I've been in the B2B technology business since 1996, first with Oracle and then
Microsoft, where I worked for over a decade. I was fortunate to gain a wide range of experience in these positions. Some highlights include the global launch of Oracle's customer success and marketing program, running Oracle's Partner Program for the
Americas, overseeing the redesign of Microsoft's Partner Portal and program
framework, ownership of Inspire, Microsoft's largest annual event, and helping
establish Microsoft's mid-market B2B business and cloud go-to-market approach.
Following these roles, I took on marketing leadership positions at mid-sized SaaS
companies and am now the CMO at Whispir, marking my third turn as head of marketing.
I chose Whispir because the company is on a mission to deliver the world's highest
engagement rates with an omnichannel communication platform. Staying connected
in our increasingly hectic and digital world is more important than ever.
What challenges did the Covid-19 pandemic pose for your team?
Over the last decade, both public and private sector organizations have sought to
digitally transform to varying degrees of success. When Covid-19 struck, instant, accurate, and actionable communication became crucial for organizations to survive. In this rapidly changing world, Whispir continues to meet the evolving needs of our customers. Our secure, scalable, cloud-based platform allows organizations to communicate effectively across multiple channels, whether they engage most on SMS, email, social, voice, or video. During FY21 alone, we added 171 net new
customers, taking our total customer base to a record 801, and we're continuing to
see growth with ARR rising 24% over the previous year.
What sets Whispir apart from the competition?
Whispir is becoming the world's leading omnichannel Communications Intelligence
Platform by offering the best engagement rates with distraction-free, highly targeted
messaging and actionable insights. Our low-code / no-code platform is easy to use
and allows our customers to scale and leverage Whispir's technology for additional
use cases without needing developers to make it happen. This is why our customer
loyalty is at all time high driving revenue retention to 122.4% and creating a record low
revenue churn at 1.8%. Sitting at the intersection of the Global Digital Transformation
market, expected to reach $1.4 trillion by 2027, and the Communications Platform as
a Service (CPAS) market – expected to reach $8 billion within five years – Whispir is
uniquely positioned to capitalize on demand growth with targeted investments in our
people and products.
How do you envisage the Martech landscape evolving, in the years to come?
I see three growing technology trends that will transform Martech as we know it:
Blockchain: Blockchain technology encrypts data, giving individuals control of their
own information and authorizing which people can access that data. Blockchain
technology will give marketers the ability to directly interact with their audiences
through a peer-to-peer network. Blockchain technology can also solve the problem
of ad fraud in marketing by fostering transparency.
Virtual / Augmented Reality – Metaverse: Whether we like it or not, this is coming.
We already see real estate in the Metaverse, NFTs, the growth of virtual reality
identities, and so much more. To reach Gen Z and the generation coming next,
marketers will need to meet them where they are, and in the future that will likely be
in a truly digital world.
Artificial Intelligence: I use AI every day, especially for writing. I see AI-driven
visual and animated designing on the horizon. Canva is amazing, and so are the
new generation of video tools, but I look forward to this being faster and easier.
Marketers can be a single-person operation in the future. When I bought
Seamless.AI, the company had just launched, and I ended up speaking with one of
the founders. He asked about my experience with the company so far and the sales
process, and I told him it was great, except the email was a bit robotic. And he told
me it was because an AI targeted me and wrote the email.
Read More: IT Digest Interview With Scott Logie, Customer Engagement Director at REaD Group Ltd
What 3 things would you advise business owners to do, to optimize their digital outreach?
1. Find out why people buy your product(s) and what they like best about using them.
2. Conduct thorough research into the competitive landscape and determine exactly
where you fit (and if you determine you are not differentiated, create a plan to
differentiate your business).
3. Define your ideal customer profile and figure out how to reach them.
As a Marketing Leader, what metrics do you use to define success?
I'm a revenue marketer, so for me, the top marketing metric that dominates all others
is the contribution of marketing to revenue. With this in mind, I have a formula for
achieving revenue, which includes achieving targets for: New Subscribers (engaged
contacts), Marketing Qualified Leads and Sales Qualified Leads (sales qualified
pipeline). These are my overall marketing team metrics. Then I create a single owner
for each marketing engine: social marketing, webinars & virtual events, emails, blog,
etc., and each engine owner is accountable for ensuring their engine is optimized and
sufficiently contributing to our team metrics. And another one of my secrets is
ensuring team metrics are shared by multiple people and job functions, to create a
natural side-to-side pressure that greatly increases your chances of reaching targets.
Your top pick for a book on Marketing that everyone should read?
Unfortunately, I need to fail the assignment because there are three.
1. Influence: The Psychology of Persuasion, Revised Edition by Robert B. Cialdini
2. Positioning: The Battle for Your Mind by Al Ries and Jack Trout
3. Permission Marketing by Seth Godin
Could you name one other Marketing Leader that you would like to see featured here?
Kipp Bodnar, Chief Marketing Officer of HubSpot. HubSpot is absolutely CRUSHING it, and
for me they are the one to watch from a marketing, culture and strategy perspective. They are
firing on all cylinders.
Where do see Marketing Automation going? How will it impact the traditional sales? and marketing channels?
In today's average selling cycles, there is far too much friction. Although there are some
companies that have adapted and offer customer-first, seamless buying journeys, most
companies aren't there yet. Sales and marketing lines continue to blur, as marketing owns
more of the sales cycle. At HubSpot's annual conference, INBOUND, the leadership team
spoke a lot about eliminating sales friction. And what they were talking about was further
automating sales and eliminating person-to-person interaction. A new McKinsey report, "The
future of B2B sales is hybrid," analyzed 2,500 sales organizations over several years and
found that "Hybrid selling orchestrates the customer journey across multiple touchpoints and
is, therefore, a critical capability in the omnichannel ecosystem. More than just a remote call
center with salespeople working out of their home offices, hybrid selling is a flexible, scalable
—and frequently more profitable—way to reach buyers." In reviewing the results from this
study, it outlines the ideal business case for marketing automation, which is driven by
marketers, and is not a skill most sellers have today. If you pair this with growing subscription based and contract-free trends, there could be an argument for less need for traditional
salespeople in the future. However, it remains to be seen how quickly this happens and
whether it happens at all.
Could you name the Top 5 apps/platforms you use for marketing?
1. HubSpot
2. ZoomInfo
3. Demandbase
4. Canva
5. Writesonic
Read More: IT Digest Interview With Ron Jaworski, CEO At Trinity Audio