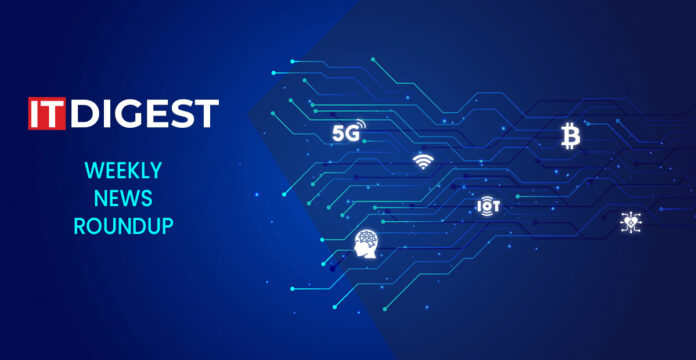 Here is IT Digest's weekly roundup of the top news from global markets. In this fast-paced world, breaking down information helps readers grasp the nuances that follow the news.
In 5G Technology news this week…
Smart, Omnispace team-up to explore space-based 5G technologies
Leading Philippine telco company PLDT's wireless subsidiary Smart Communications, Inc. (Smart) is collaborating with U.S.-based Omnispace to explore and demonstrate the capabilities of space-based 5G communications using low earth orbit (LEO) satellites.
In Business Technology news this week…
Incode Expands Executive Leadership Team with Digital Identity Veteran Hire
Incode, the next-generation identity verification and authentication platform for global enterprises, announced Mitul Parmar as Vice President (VP) of Product Strategy and Business Development. Parmar's appointment marks the fifth addition to the executive team in three months, as Incode's global team doubles in size and the company expands its international presence, with new offices opening in the U.S., Mexico and Serbia.
In Cloud Computing news this week…
Tredence bets big on $30 Billion Data Migration and Modernization Market
Tredence Inc., data science solutions provider focused on solving the last mile problem in AI, has announced capability development investments and partnerships to expand and strengthen its 'data on cloud' migration and modernization solutions that will accelerate Data and AI outcomes for its enterprise customers.
Stream Data Centers Welcomes Mike Lebow as SVP, Location Strategy and Development
Stream Data Centers, an industry leader in delivering exceptional data center experiences to global enterprise and hyperscale clients, proudly announces the addition of Mike Lebow as its new Senior Vice President of Location Strategy and Development.
In Computer Science news this week…
Voyager Labs and Voyint Partner to Deliver End-to-End Investigation Solutions and Services for Federal Agencies
Voyager Labs, an award-winning world leader in advanced investigation solutions, and Voyint, LLC, a provider of expert investigative services, announced a strategic partnership to deliver end-to-end investigation solutions, support and services for federal government clients.
Vision Elements Joins NVIDIA Partner Network as an AI Solution Advisor Consultant
Vision Elements , a leading computational and AI software development firm, today announced it has joined the NVIDIA Partner Network as an AI Solution Advisor Consultant partner.
In FinTech news this week…
Adyen advances in-person payments with the launch of in-house designed terminal range
Adyen , the global financial technology platform of choice for leading businesses, is pleased to announce the launch of its first in-house designed terminals. Innovated to facilitate diverse payment use cases, the terminal range marks the latest step forward in Adyen's growing unified commerce offering.
CORRECTING and REPLACING Bank of Queensland Goes Live on Temenos Banking Cloud
Temenos announced that Bank of Queensland has gone live with retail banking services on Temenos Banking Cloud for customers served under the BOQ and Virgin Money brands. BOQ Group completes the next phase of its multi-year transformation which will enable it to create outstanding digital experiences and help customers reach their financial goals
In HealthTech news this week…
Healthcare technology company Omics Data Automation, Inc. Announces opening of its Facility in Bangalore, India
Omics Data Automation (ODA), a leading provider of technology for healthcare data management and analysis, announced the opening of its newest office in Bangalore, Karnataka, India in response to growing global demand for its software and services.
Johnson Controls AI-enhanced OpenBlue Platform Cuts Microsoft's Beijing Campus Energy Footprint
Johnson Controls , the global leader for smart, healthy and sustainable buildings, has partnered with Microsoft Beijing Campus for its ongoing retrofit and optimization of building operations, achieving 27.9% energy savings and ensuring key equipment uptime to 98%. As a result, the campus has been granted an energy saving endorsement and financial subsidy by the Beijing Municipal Government and the Haidian District Government.
In Information and Communications news this week…
Community Brands Acquires BigSIS, a Fully Integrated Student Management Platform
Community Brands, the leading provider of cloud-based software and payment solutions for associations, nonprofits, and K-12 schools, has acquired BigSIS, a market-leading School Management and Student Information System (SIS) platform, expanding its capabilities to better meet the needs of private and independent schools.
Vernier Software & Technology is now Vernier Science Education
Vernier Software & Technology has changed its name to Vernier Science Education. This new name reflects the company's commitment to provide educators with the tools they need to engage all students with hands-on, socially relevant STEM education and build a STEM-literate society.