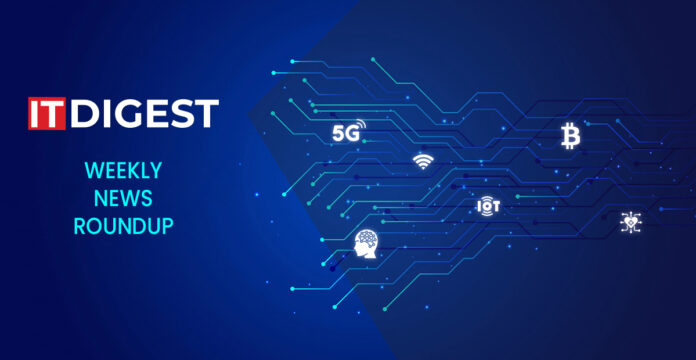 Here is IT Digest's weekly roundup of the top news from global markets. In this fast-paced world, breaking down information helps readers grasp the nuances that follow the news.
In Digital Transformation news this week…
Joget and The HBAR Foundation Partner to Enable No-Code/Low-Code dApp Development on Hedera. The partnership aims to further drive adoption of the Hedera network by making it fast and easy to create distributed applications on the world's greenest public DLT
Joget Inc, the open-source no-code/low-code application platform company for empowering open innovation, announced the release of the Hedera Ledger Pack for the Joget DX platform in conjunction with a partnership with the HBAR Foundation.
UST Works with AWS and Mendix to Accelerate Digital Transformation in the Financial Services Industry. UST, a leading digital transformation solutions company, has announced that it is working  on solution development and go-to-market strategies targeting the financial services industry with Amazon Web Services (AWS) and Mendix. Mendix is a Siemens business as well as a global leader in modern enterprise application development, and this work will allow UST to accelerate the adoption of low code solutions in the financial services industry. .
In Cloud Computing news this week…
KX Supports B2C2 for Trading Analytics, Driving Further Innovation In the Digital Assets Space. KX, maker of kdb+, the world's fastest time series database and analytics engine, announces that B2C2, the world's leading crypto liquidity provider and a digital asset pioneer, has expanded its use of KX's real-time high-performance analytics software, including the deployment of KX Dashboards, its powerful visualization tool. As more institutional firms enter the world of cryptocurrencies, the increased use of KX will enable B2C2 to offer clients tailored products and services at a level that is more akin to what is found at a tier-one investment bank.
VIDA Launches VIDA Intelligence Portal 2.0 to Accelerate Onboarding of Clinical Trial Site VIDA Diagnostics, Inc. (VIDA), the leader in imaging intelligence, has announced the availability of VIDA Intelligence Portal 2.0, a major upgrade of its cloud native, AI-enabled Intelligence platform. The newly updated platform drives efficiencies in clinical trial imaging operations by optimizing staff training, image data collection and data quality, curation and management. New digital onboarding features in VIDA Intelligence Portal 2.0 greatly simplify the enrollment process for trial sites.
In Computer Science news this week…
Boost.ai appoints Jerry Haywood as Chief Executive Officer Boost.ai, a Nordic Capital-backed global leader in conversational AI for enterprises, announced that Jerry Haywood is joining the company's executive team as Chief Executive Officer effective December 1, 2022. Haywood brings 20 years of enterprise technology experience with him, and has held various sales and senior leadership positions at IBM, Cisco, and Salesforce. He joins Boost.ai from LivePerson, a global technology company that develops conversational commerce and AI software. Haywood will succeed founder and current CEO Lars Ropeid Selsås, who desires to devote more time to product development and innovation.
New Landmark Study Indicates UltraSight Enables Novice Ultrasound Users to Capture High Quality Cardiac Images. UltraSight, an Israeli-based digital health pioneer transforming cardiac imaging through the power of artificial intelligence, announced new findings from a landmark pivotal study. According to the results, UltraSight's AI guidance and quality assessment technology allows medical professionals, with no prior sonography experience, to accurately perform echocardiographic examinations and acquire high quality diagnostic images of the heart.
In FinTech news this week….
Napier Breaks Into Japanese Market Through New Partnership With Governance, Risk, and Compliance Firm, GRCS Napier, the financial crime compliance specialist, has announced that its end-to-end financial crime risk management platform, Napier Continuum, is available to the Japanese market through a newly-minted partnership with Japanese firm GRCS.
Born From Combat Defense Tech Firm Enters Fintech Market With NovusPoint Equitus Corporation, an enigmatic Florida tech firm known mostly for its advanced work in AI and Graph Database intelligence platforms designed for the defense intelligence community, has launched NovusPoint Inc., to meet growing demand for similar capabilities in the finance, banking, and insurance industries.
In HealthTech news this week…
Annalise.ai Showcases AI Tools for Medical Imaging at RSNA 2022 Annual Meeting and Convention Annalise.ai, which was just named 2022's "Best New Radiology Vendor" by AuntMinnie.com, is celebrating yet another stellar year of growth and innovation at the Radiological Society of North America (RSNA) 2022 Annual Meeting.
emtelligent Releases New Apps, Including AI Concordance Reporting at RSNA 2022 emtelligent, a leader in the development of clinical-grade natural language processing (NLP) software for healthcare organizations, announced the continued expansion of its emtelliSuite™ family of apps on the eve of RSNA 2022, the Radiological Society of North America's annual global forum being held Nov. 27 to Dec. 1 in Chicago.
In Information and Communications news this week…
Cisco AppDynamics Launches Business Transaction Insights in AppDynamics Cloud for Observability of Cloud-Native Applications on AWS Cisco AppDynamics announced major updates to its cloud-native observability solution AppDynamics Cloud. Business transaction insights combines business transaction monitoring with AppDynamics Cloud's continuous-context experience. This allows organizations to expand observability over cloud-native applications correlated with business context across their Amazon Web Services (AWS) environment and beyond. The AIOps-derived insights enable teams to observe applications the same way customers and end users experience them and quickly take action to optimize performance and remediate issues in near real-time.
Indonet Partners with Juniper Networks for Intent-Based Networking Software to Automate and Modernize Network Deployment Tapping Juniper Apstra for the build-out of its latest data center, Indonet will further uplift networking infrastructure across Indonesia to accelerate the country's digital growth