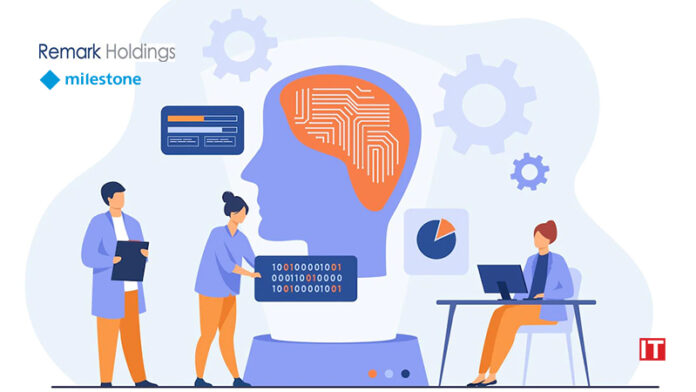 Remark Holdings, Inc, a diversified global technology company with leading artificial intelligence solutions and video analytics, announced its integration with Milestone Systems' XProtect® platform in the Milestone Systems Marketplace. Remark's Smart Safety Platform augments a higher level of security with its application of AI-driven video analytics. Organizations are able to gain full situational awareness and control, reduce the complexity associated with managing video content at scale and reap the many benefits of having automated workflows.
Also Read: AiDash Secures Investment from SE Ventures, a Leading Global Venture Fund Backed by Schneider Electric
Milestone Systems' XProtect® VMS allows security and operation teams to create custom surveillance solutions for their industry-specific needs such as video monitoring for access control or linking video content to investigations for law enforcement. The integration with Remark's Smart Safety Platform allows organizations to make real-time data-driven decisions, allowing users to uncover data insights from the autonomous detection of security incidents and breaches, around the clock.
Remark's Smart Safety Platform AI-powered features generates real-time alerts for proactive security and safety including:
Intrusion / loitering / object / vehicle / trespassing detection
Live real time large capacity people counting and crowd analysis
Preventative behavioral analysis such as loitering, dropping of unattended bags, vandalism, graffiti, fights
Suspicious fire, object, and smoke detection
Intelligent pre and post-forensic investigation by providing for meta-data searches utilizing physical and object recognition attributes to speed up the investigation process
Visual dashboard with actionable insights and reports for daily monitoring and pattern spotting
"The integration between Milestone Systems' XProtect® VMS and our Smart Safety Platform gives users a visualized dashboard that elevates their existing security capabilities. Our Smart Safety Platform ingests raw video content and turns it into data-driven intelligence with actionable insights and real-time alerts on potential security breaches. Users can monitor and respond to incidents in real-time, simplify and automate security operations and accelerate response times," said Kai Shing Tao, Chief Executive Officer of Remark Holdings. "We are pleased to be a part of Milestone's Marketplace and look forward to continued success in our partnership."