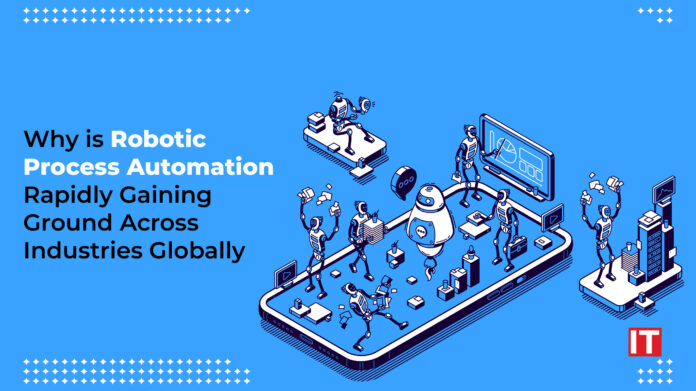 What if I tell you that you can automate your task and let the software do your work. Fascinating Right? 
Software robots can do the job for you. In recent years, the term RPA has been spreading across multiple industries with multifold adoption. They work for you just like a digital workforce interacting with any system or application. 
Business operations and results benefit greatly from robotic process automation. RPA offers quantifiable business advantages right away (consider cost savings, increased accuracy, and delivery speed), and it keeps improving as it gains traction and extends throughout the organization.
By allowing humans to focus on their strengths—problem-solving, process improvement, conducting analysis, and other value-added work—RPA enhances company outcomes like customer happiness and creates competitive advantages. This leads to better employee engagement and additional income prospects.
What is RPA and Why is Everyone Going Gaga Over This Tech?
Software robotics, sometimes referred to as robotic process automation (RPA), uses automation technology to simulate back-office functions performed by human employees, such as extracting data, filling out forms, moving files, etc.

To integrate and carry out repetitive operations between enterprise and productivity applications, it mixes APIs and user interface (UI) interactions. RPA technologies carry out autonomous execution of a variety of tasks and transactions across unrelated software systems by deploying scripts that mimic human operations.

Also Read: Natural Language Processing: How Technology Aids in Marketing For Marketers
By performing business process activities at a large volume using rule-based software, this type of automation frees up human resources to focus on more difficult jobs. RPA gives CIOs and other decision-makers the ability to quicken the process of their staff's digital transformation and increase their return on investment (ROI).

Why Do Businesses Continue to Experience High Adoption of Robotic Process Automation?
Workflows are streamlined through robotic process automation, which helps businesses become more profitable, adaptable, and responsive. By reducing menial duties from their workdays, it also boosts employee satisfaction, engagement, and productivity.

RPA can be quickly installed and is non-intrusive, which speeds up digital transformation. It's also perfect for automating processes using antiquated systems that lack virtual desktop infrastructures (VDI), database access, or APIs.
The repetitive and low-value activities like logging into applications and systems, moving files and folders, extracting, copying, and inserting data, filling out forms, and generating routine analysis and reports are now performed by software robots rather than by actual people.

Even cognitive tasks like language interpretation, conversational interaction, processing of unstructured data, and applying cutting-edge machine learning models to make complicated decisions are cognitive tasks that advanced robots can undertake.

Humans are liberated to concentrate on the things they do best and like most, such as innovating, collaborating, producing, and interacting with clients, when robots take over these kinds of monotonous, high-volume work. Higher production, efficiency, and resilience benefit businesses as well. It makes sense why RPA is altering the history of the workplace.
Accelerated Transformation
Agility is essential for firms undergoing digital transformation to adapt to a business and technological environment that is changing quickly. It is essential to deliver and surpass organizational expectations with a strong digital mindset supported by innovation right now more than ever. For organizations to flourish, it will be essential to give them the ability to detect, learn, respond, and evolve like living beings.

RPA is effective at every level of a business process in providing enterprises with intuitive decision-making automatically at scale, actionable insights based on real-time solutions, anytime/anywhere experience, and in-depth data visibility across departments that leads to hyper-productivity.
Major Cost Savings
Drag-and-drop capabilities in user interfaces make it simpler for non-technical workers to onboard RPA, which does not always require a developer to configure. RPA decreases team workloads, allowing workers to be transferred to other important tasks that still require human input, increasing productivity and ROI.
Higher Accuracy
RPA bots decrease the potential of human error by finishing activities that might take several human hours in seconds. Employees can concentrate on activities that call for creativity, planning, problem-solving, and other abilities that software doesn't have by delegating work to RPA. The sooner firms adopt RPA, the sooner they will experience enhanced performance and ROI, assuring long-term sustainability. RPA is the future.
Boosted Productivity
Employees spend a lot of effort gathering data from numerous sources and extracting it. RPA streamlines the procedure by extracting important data from scanned papers, pictures, or PDFs and entering it into accounting software or combining data from several sources into a single, standardized report.

Additionally, because bots only affect the display layer of already-existing applications, robotics process automation software doesn't interfere with underlying systems. Therefore, even in cases where you lack an API or the capacity to create complex integrations, you may still use bots.
Improved Compliance
RPA robots can be programmed to follow precise workflows and procedures, which helps to eliminate human error, especially when it comes to work that must be accurate and compliant with regulations. RPA can also offer an audit trail, which makes it simple to track progress and deal with problems more rapidly.
Why is RPA Changing Businesses Itself? It's Not How They Work, But How They Business
Robotic process automation involves more than just technology; there are specific guidelines and procedures to adhere to. Most people focus on the integration with particular types of artificial intelligence, which is a step closer to intelligent process automation.

Robotic process automation makes use of already-existing user interfaces as opposed to conventional automation systems. Process automation that fully utilizes artificial intelligence is known as intelligent process automation, as is everything that is referred to as intelligent these days. Even with the integration of AI and RPA just getting started, we are still a long way from there.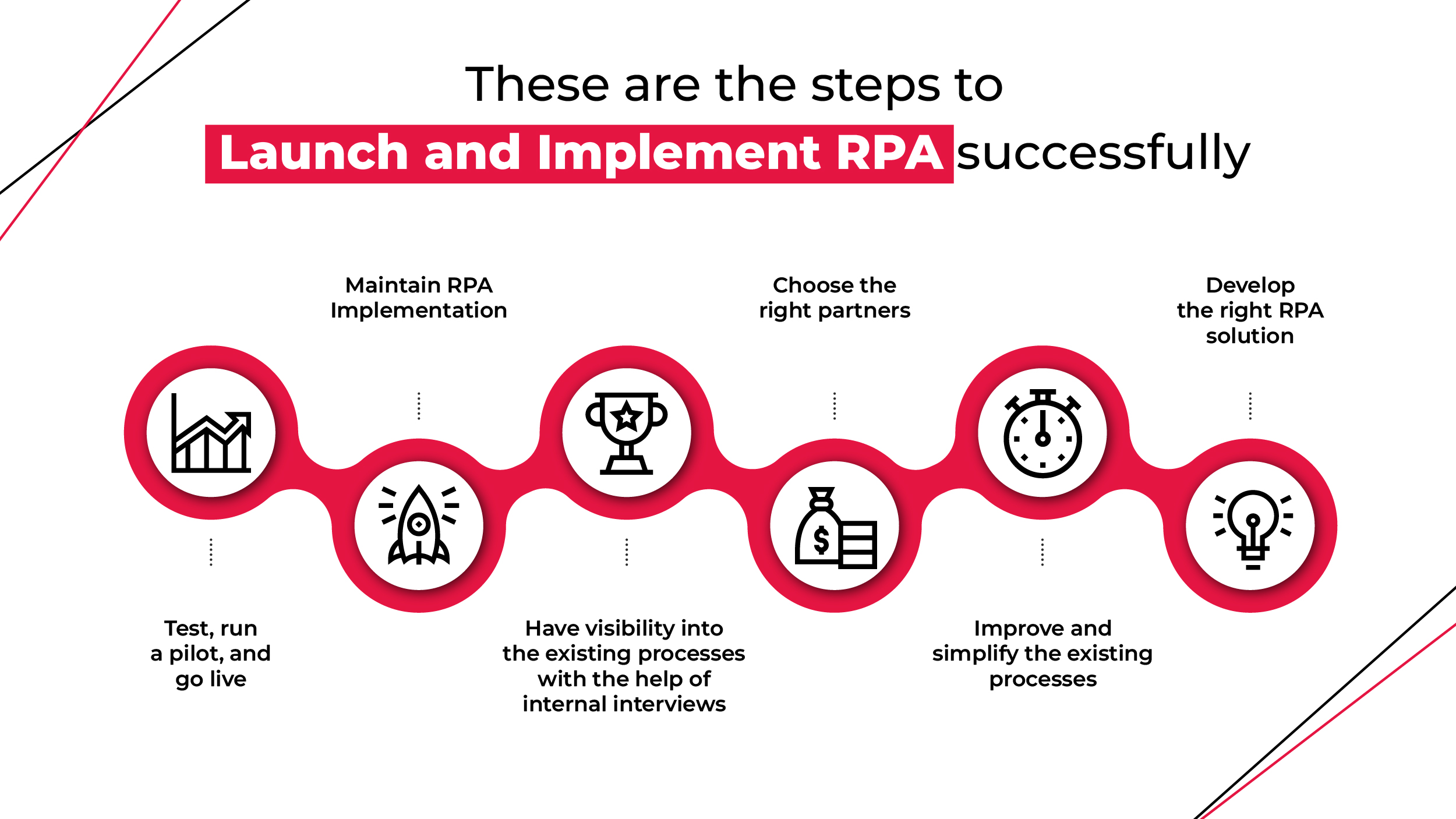 RPA shares more similarities with "robotic" software, such as robo-advisers in the finance industry, than it does with traditional bots, such as chatbots.
RPA shares more characteristics with "robotic" software, such as robo-advisers in the financial technology industry, than it does with bots as you may be familiar with them from chatbots and other applications. The extra element is the reproduction of user actions, which leads to the graphical user interface even though RPA's roots are in screen scraping.

Please be aware that the software robot is managed by a "human" user both during and after the deployment process.

Just as chatbots aren't a replacement for other forms/channels/technologies of customer service and robo-advisers aren't a replacement for financial advice (providers of such applications have started to offer other means of interaction because they had to), RPA isn't a solution for all process automation needs either.
Robotic automation processes are a logical step in process automation, building upon existing technology and possibilities. It is not overly intrusive or difficult from an IT standpoint, is generally low-hanging fruit, and has been around for a while. Although there are variations across different industries and areas, RPA is widely used as a non-invasive technique with considerable potential for savings (see below).
Others are already transitioning to the next stage of integrated automation, where RPA fits in, while some businesses are just getting started. To put it another way, RPA is changing, both from the standpoint of adoption and vendor, with the latter moving toward integration.
RPA in Action – Understanding the Different Facets of Its Role in Industries
The finance and accounting sector accounted for 36% of all use cases in the Forrester report titled "The RPA Services Market Will Grow To Reach USD 12 Billion By 2023." As expected, given banking's early adoption of automation in RPA, more than one third of all bots in use today are in the financial sector.
RPA technology is used by a variety of sectors to simplify business processes. There are RPA implementations in the following sectors:
Call Center Operations 
It is simple to assist customers with requests made through call centers with the aid of RPA technology: common questions asked by consumers and solutions may be sent to agents through a dashboard. RPA makes it possible for customer service representatives (human employees) to get all the data they need from many systems to provide perfect and faultless service by combining all the pertinent information about a customer on a single screen when a problem escalates to them.
Compliance Reporting 
The monitoring of compliance may eventually become difficult as your company grows. For instance, you might not have enough time to keep an eye on an employee who tries to install unapproved software. Fortunately, robotic process automation makes sure that every employee complies with compliance standards.
Customer Order Processing 
Every time a consumer puts an order, the same cycle is carried out from start to finish with a few modifications. Your staff may find it unpleasant and time-consuming to manage those tasks manually, which may lead to more mistakes being made. In order to decrease human error, increase ROI, minimize costs, and improve customer happiness and experience, RPA technologies can be designed to manage client order processing.
Employee Onboarding 
By enrolling names, organizing meetings and induction sessions, and sending automated emails and messages outlining their tasks, the RPA helps automate the onboarding process of new workers. RPA is the greatest way to guarantee that each employee is onboarded in accordance with the standard and established procedure and that they are given all the information necessary to comply with corporate policies.
Credit Card Applications 
Most credit card application processes use RPA bots as the backstage actors. They are set up to handle each step of the procedure, including gathering data and supporting documentation, doing credit and background checks, deciding whether the application is approved for credit in the end, and issuing the actual card.
Scheduling Systems 
Online scheduling for medical appointments can be enhanced with RPA technology. To make the process of scheduling appointments hassle-free and effective, RPA bots can gather all information about the patient, including insurance information, appointment requests, location preferences, etc.
Claims Administration 
RPA is used in the insurance and healthcare industries for two reasons: claim processing and input. RPA machines can do this more accurately and more quickly than humans can. RPA technology can also spot non-compliant exceptions, shielding you from pointless expenditures.
Data Transfer From One System To Another 
Businesses frequently lose important information because their systems are not backed up. The majority of the time, because they are preoccupied with other tasks, restoring the backed-up electronic data may take longer. Both of these operations can be readily handled by RPA technologies, ensuring worry-free operation and rapid information restoration. A straightforward RPA solution improves transparency while saving time. By doing so, the possibility of human error and the delays brought on by manual operations can both be reduced.
Fraudulent Account Closing 
Financial service providers need to be closely watched, and any questionable behavior should be dealt with immediately. For instance, while working with people's finances, it is vital to keep an eye on all activity to spot anything suspect. Not only is going it alone a feasible choice, but it also puts your company in danger. RPA can be useful in this situation because it quickly closes related accounts and can discover and stop abnormalities.
To Infer on This
Even though robotic processing automation initiatives can be implemented fairly quickly, it's important for organizations that want to benefit from it and what follows to look at the bigger picture and work in a staged manner with pilots and gradually automating where it makes sense in the overall digital transformation value generation and innovation scope, rather than in ad hoc legacy system automation fix or standalone implementations.

Digital change is still essential to everything. Deals are also being made between sellers of RPA solutions in particular markets and other vendors or information management firms that can broaden and improve the offerings of these vendors.
When you consider RPA's demonstrable benefits and how simple it is to implement compared to other corporate technology, it's clear why RPA usage is rapidly increasing across the globe.