Are Robots Taking Over Jobs or Empowering Us In Manufacturing?
Robots are changing the way we think about manufacturing; they are designed to move materials as well as perform a variety of modified tasks in production and manufacturing settings. They are frequently used to perform tasks that are hazardous or unsatisfactory for human laborers, such as monotonous work that causes fatigue and may result in wounds due to the worker's negligence.
Industrial robots can significantly improve product quality. In each activity, applications are carried out with precision and consistency. This level of dependability can be difficult to achieve in another way.
Industrial robots require a significant investment, but the benefits outweigh the costs. As a result of their efficient operation in manufacturing, industrial robots are worth investing in. In this article, we'll look at some crucial applications for our co-bots.
Industrial Robots In Manufacturing
In the 1950s, American inventor George Devol created the first industrial robot, Unimate. Devol installed Unimate on a General Motors assembly line at a die casting plant in 1961. This transformed the automotive industry. General Motors established the world's first automated factory.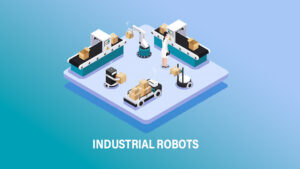 The introduction of robot integration was a game-changing innovation for the manufacturing industry. The use of robotics to automate tedious and difficult tasks revolutionized the industry. Robotics is now used in manufacturing systems to boost performance, productivity, and work quality.

Manufacturing robots can do everything from material handling to packaging. As a result, they are designed to perform various and repetitive tasks while reducing production time. Indeed, industrial robots are outfitted with Artificial Intelligence and machine learning systems to assist manufacturers in responding to real-time situations.
Why Integrate Robots in Manufacturing Industry?
Increased Safety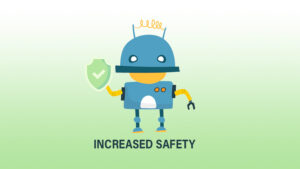 One of the most significant benefits of incorporating robotics is safety. All business owners and plant managers must ensure the safety of their employees and the environment. Robots can now be assigned dangerous and harmful tasks. Employees will no longer be required to work with heavy objects or in dangerously hot environments. Companies will also be able to save money on workplace injuries and resulting lawsuits.
Job Creation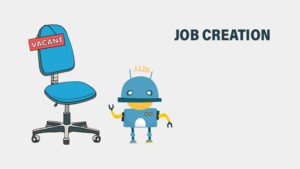 Although robotics can outperform human labor in terms of efficiency, they do not eliminate jobs. Robots do not replace humans, but rather create more job opportunities. Without humans, industrial robots are nothing more than simple machines. Co-bots cannot function independently and will require humans to program their tasks. Integrating robots into your manufacturing line will only improve current jobs. Your employees will be able to learn new technological and engineering skills. The benefits of industrial robots for your company and employees are limitless.
Longer Work Hours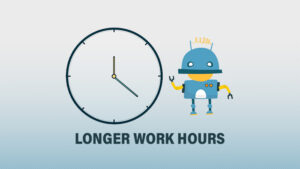 Industrial robots operate at a faster rate, with no need for breaks or pauses. Furthermore, robots can perform repetitive tasks at a faster rate. Your employees can now delegate time-consuming and tedious tasks to co-bots. Your employees can now concentrate on more difficult tasks. Integrating robotics into your current line process will improve accuracy and consistency across the board. Each product or material will be treated with the same level of care and precision. Companies that choose automation no longer have to worry about sick days, unexpected emergencies, or poor work quality.

Read More: How Security Operations Centers Are Part and Parcel of Organizations
Shades of Robotics In Manufacturing
Today, although most robots are used in manufacturing operations; the applications can be divided into four categories: 
Material-handling
Material transfer and machine loading and unloading are examples of material-handling applications. Material-transfer applications necessitate the robot transporting materials or work parts from one location to another. Many of these tasks are straightforward, requiring robots to move parts from one conveyor to another.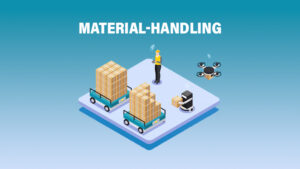 Other transfer operations are more complex, such as placing parts on pallets in an arrangement that the robot must calculate. A robot is used to load and unload parts at a production machine during machine loading and unloading operations. This necessitates the robot having a gripper that can grasp parts. Typically, the gripper must be designed specifically for the part geometry.
Processing Operations
The robot manipulates a tool to perform a process on the work part during robotic processing operations. Spot welding, continuous arc welding, and spray painting are examples of such applications. Spot welding of automobile bodies is one of the most common industrial robot applications in the United States. To complete the assembly of the basic car body, the robot places a spot welder against the automobile panels and frames.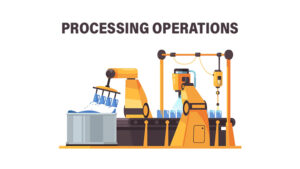 Arc welding is another continuous process in which the welding rod is moved along the seam to be welded by the robot. Spray painting entails moving a spray-painting gun over the surface of the object to be coated. Other operations in this category include grinding, polishing, and routing, in which the robot's tool is a rotating spindle.
Assembly and Inspection
Assembly and inspection are the third application areas for industrial robots. Because of the high cost of manual labor in these operations, the use of robots in assembly is expected to grow. Because robots can be programmed, one assembly strategy is to produce multiple product styles in batches, reprogramming the robots between batches. Another approach is to produce a variety of product styles in the same assembly cell, requiring each robot in the cell to identify the product style as it arrives and then execute the appropriate task for that unit.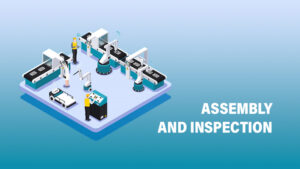 Painting 
In the automotive industry, industrial paint robots are primarily used to evenly paint parts and equipment without leaving paint marks or drips. They are precise and apply the appropriate amount of paint to each piece of equipment without wasting any supply. Paint robots have recently been used to recreate original paintings outside of the automotive industry.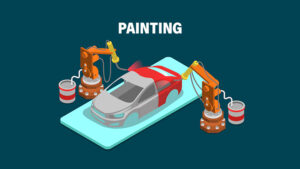 Which Robots Are In Action?
The adoption of industrial robots in manufacturing sectors has increased due to rapid advancements in robotics and automation technology. Furthermore, numerous industrial robots are being used to perform multiple tasks with repeatability, resulting in high-quality production. Industrial robots are typically classified based on their mechanical structure. This section will go over the movement of each co-bots, as well as its industry application and axis configuration.
The major robotic classification in manufacturing industry is as follows:
Articulated Robot
The most common type in manufacturing is articulated industrial robots. Industrial robots have several joints that allow them to perform specific movements or positions. Joints are referred to as axes in robotics, and each axis provides a degree of freedom (movement).
Up to ten or more joints, or axes, can be connected at the base of an articulated robot. They have the most degrees of freedom of any industrial robot. Articulated robots are used in applications such as packing, painting, welding, material handling, and dispensing. The most common type of articulated robot has six axes of motion.
Delta Robots
Delta robots are made up of three arms that are connected at the base and can only move in three directions: X, Y, and Z. They are often referred to as spider robots due to their slim, lightweight arms and ability to move quickly. Some delta robots can pick up to 300 items per minute. Delta industrial robots are widely used in the pharmaceutical, food, and electronics industries. They are most commonly used for picking and packaging, but they can also be used for assembly and inspection.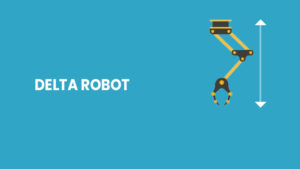 Cartesian Robot
Cartesian robots are commonly used in the production of CNC machines and 3D printers. Cartesian robots use the Cartesian coordinate system to operate on three or more linear axes (X, Y, and Z). Their coordinates enable them to move from one side to the other, in and out, and up and down. Cartesian robots operate in a rectangular workspace that allows them to access the majority of the work area. These robots are designed to work "over" their workspace, thereby saving floor space. Pick and place, dispensing, assembly, and inspection are all examples of Cartesian robot applications.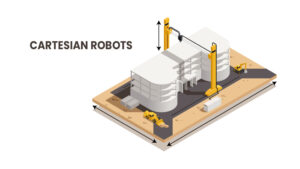 SCARA Robots
Assembly of Selected Compliance SCARA robots are made up of two parallel joints. It comes with a donut-shaped envelope that delivers compliance in only one direction. The rotary shaft's arm is vertical and moves horizontally. As a result, SCARA robots move faster and integrate more easily than cylindrical and cartesian robots.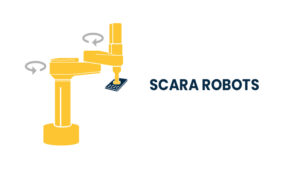 Polar Robots
Polar robots have twisted joints attached to the arm and two rotary joints with one linear joint connected to the links. These robots are Spherical robots as they have a spherical work envelope. By the way, the access of this configuration of the opposing robot arm is limited within its workspace.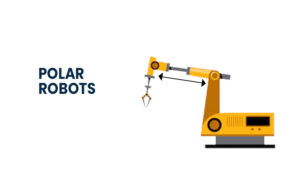 Cylindrical Robots
Cylindrical robots, in general, have a cylindrical workspace and a pivoting shaft with at least one prismatic and one rotary joint attached to the links. Furthermore, due to an extendable arm and sliding, the post is moving vertically. Because of their cylindrical structure, these robots can move horizontally and vertically with their axes.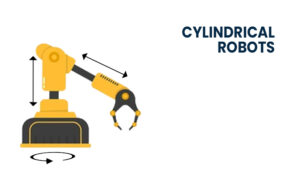 Read More: Natural Language Processing: How Technology Aids in Marketing For Marketers
Scope of Robotic Integration 
Many businesses will increasingly rely on automation to maintain minimal human contact while remaining competitive. Many industries are now adopting automation as a result of industrial robots. The majority of robotic spending is spent on industrial robots, which will most likely benefit from the current situation.
In recent years, robotics and artificial intelligence have become more sophisticated. This has created a plethora of automation opportunities in the manufacturing industry. Automation and robotics have the potential to transform manufacturing production lines, with numerous advantages for business owners, employees, consumers, and the economy as a whole.
The British Association of Robots and Automation (BARA) is leading the charge in championing these developments. BARA provides expert support to the end-user community in addition to providing a voice for the robotics and automation industries by convening with government, industry, financial, and academic institutions. The organization's expertise and support have elevated it to the forefront of robotics and automation.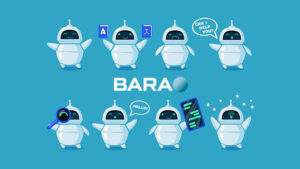 Previously, co-bots worked and performed independently of humans and other machines; however, robots can now be integrated into the workforce, and some can even work alongside human workers. Robots can now perform tasks that were previously too difficult or dangerous for humans due to advances in sensor technology.
Researchers are now working on ways to train co-bots to collect data. Data collected from robots in manufacturing will be able to help manufacturers make better decisions in the future and improve their manufacturing processes. Many researchers and businesses are currently anticipating the introduction of Artificial Intelligence (AI) and how AI will reshape the future of robotics capabilities in the coming years.
Inferring On This..
Many business owners and plant managers continue to favor robotic integration as a method of automation. The benefits of incorporating robotics into your production line are limitless. Industrial robots are capable of performing repetitive, time-consuming tasks with precision and consistency. Robots will not only be able to work faster and for longer periods of time, but they will also be able to increase production rates, ROI, and create new jobs. However, major decisions necessitate research and comprehension. Integrating robotics into your environment necessitates investment, calculation of your expected ROI, and acceptance of changes and limitations.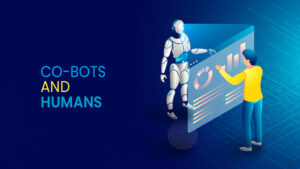 As the next wave of automation spreads across the manufacturing industry, we will witness unprecedented transformation; robots will not only collaborate with humans in the workplace, but they will also help to revolutionize the job roles and skill sets that humans can adopt.