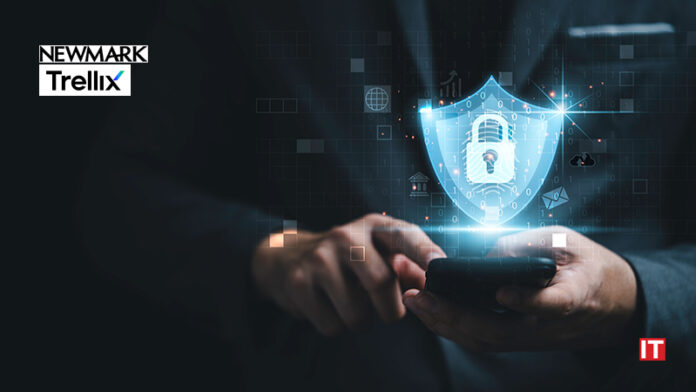 Newmark Global Corporate Services (GCS) announces it has been awarded a long-term integrated facilities management contract with Trellix, the cybersecurity company delivering the future of extended detection and response (XDR). This engagement—which expands Newmark GCS' services from transaction management into multiple service lines—demonstrates a commitment to delivering superior, holistic solutions for corporate real estate clients.
Under the terms of the contract, Newmark GCS professionals will support Trellix's operations across 11 countries on five continents, including leased offices, hi-tech facilities and multi-purpose spaces. Newmark GCS will provide Trellix with outsourced facilities management services internationally, including employee experience, dining, engineering, business support, transportation and facilities technology. Newmark will also provide Trellix access to flexible workspaces globally via Optality, Newmark's intuitive technology that enables users to manage and book flex space on demand. While fulfilling Trellix's corporate facilities management requirements, Newmark GCS is also committed to furthering the cybersecurity company's commitment to environmental stewardship.
"Resilient, sustainable, high-performing operations is a top priority for Trellix. Our relationship with Newmark GCS and its diverse supplier community is an integral part of that mission," said Jessica Salcido, Trellix Vice President of Workplace Strategy. "Through our collaboration with Newmark, our cybersecurity leaders are empowered to create a workplace where employees are engaged, productive and connected — strengthening our hybrid culture."
Also Read: SPS North America Taps Advanced Analytics and AI for Improved Client Success and Efficiency
"Securing a new multi-service, global contract with Trellix demonstrates our commitment to providing clients with compelling offerings, especially in the employee experience and workplace technology disciplines. These areas are crucial to attract talent and compete in today's dynamic business climate," said Luis Morejon, Newmark GCS Global Facilities Management Leader. "Trellix was seeking a partner to join them on their growth journey, capable of being nimble, flexible and transparent. At the core of our relationship is a client-centric commercial and operational model through which we will create global standards while supporting Trellix to flex workplace settings in real-time to achieve ambitious business goals."
Newmark Vice Chairmen Bill Benton and Mike Saign of San Francisco and San Jose brokerage referred the GCS team for the Trellix contract assignment. "This was an exciting cross-business collaboration to benefit our client. We are thrilled with the outcome and trust Trellix has placed in our collective team," said Benton.
SOURCE: PR Newswire