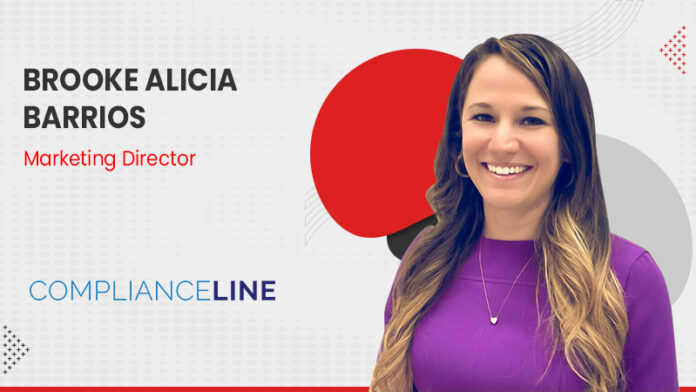 If consistency is the key to generating new leads, communication is the key to keeping the ones you have.
Could you tell us about your journey in Marketing?

As an undergraduate English major with a dance background, I never would have dreamed that I'd end up in Marketing. After a Master's in Arts Administration, a couple roles in arts nonprofits, and a MBA with a Marketing concentration, I worked with global beauty company Coty in New York City and served as Marketing Director for hot exercise franchise HOTWORX, virtual personal training start-up FlexIt, and now ethics & compliance solutions provider ComplianceLine. From international companies to local nonprofit organizations to start-ups and small businesses, the thread throughout my career is a real passion for business, Marketing, and, essentially, people.
What challenges did the Covid-19 pandemic pose for your team?
While we did experience hardships, and new purchases essentially froze, we were able to take this time to create new avenues for members of the compliance space to learn about ComplianceLine and the services we offer. Effective thought leadership content such as our regular webinars and The Ethics Expert podcast became marketing priorities, and have continued to serve us well.
What sets ComplianceLine apart from the competition?
ComplianceLine is not only one of the few companies that practices what it preaches, but we are also dedicated to ethics & compliance solutions that do more than the bare minimum. Our goal isn't just a solution that works; it's a solution that prioritizes the members of each individual organization and encourages them to take part in the effort to improve their workplace environment. We build solutions that give those people the tools and resources they need to make an impact.
Read More: IT Digest Interview with Rob Sewell, CEO of SmartFrame Technologies
How do you see Marketing Solutions evolving over the years to come?
Automation will continue to develop and become a more powerful tool for marketers to extend their reach and discover new leads. However, no matter how advanced automation becomes, it will still be helmed by an individual with a human touch. After all, the key to effective marketing lies in human psychology, which is best understood by… humans!
How do you see CTV advertising evolving?
While CTV has proven to be immensely successful, its major challenge is attribution. Developing a way for users to interact with these ads, that is both easily accessible and non-invasive, is the next step for CTV advertising. Finding a means for users to easily interact with CTV ads that is simple, without invading on a user's privacy, will be a gamechanger.
What 3 things can business owners do to optimize their digital outreach?
Consistency, communication, and entertainment value. No matter what the medium, consistency is the key for all digital outreach. Having a consistent presence makes sure that you are easily accessible the moment your target base is looking for you. If consistency is the key to generating new leads, communication is the key to keeping the ones you have. Engaging with your current audience will not only keep you top of mind, but will enable you to find new ways of improving your offering. Entertainment value is the key to elevating your digital outreach. Creating engaging content will not only introduce new users to you, but will familiarize them with your mission as an organization.
What are your thoughts on the growing importance of contextual and semantic-based targeting, as the post-third party ecosystem takes shape?
As privacy rights come into play, targeting will become a matter of aligning your brand with the content that most interests prospective clients. Contextual and semantic-based targeting will become the key to engaging the right audience. Not only that, but it will lead to more marketing that revolves, not just around the content, but in the content itself. Effective marketing will begin to take a role in creating intelligent thought leadership.
Could you name one other marketing leader that you would like to see featured here?
Ashley Aucoin, Marketing Manager at Zoocasa
Your top pick for a book on Marketing that everyone should read?
"Moonwalking With Einstein" by Joshua Foer
Any advice you would like to give to budding entrepreneurs?
Put people first. Regardless of how good your idea is, how impressive your pitch is, no man is an island. Finding the right people, building trust with them, and prioritizing your employees will give you an edge. By treating people well, and prioritizing a healthy workplace, you'll not only attract top talent, but will unlock employee potential.
Thanks Brooke!
Read More: IT Digest Interview with Matt Keating, Sales Director at VDX.tv