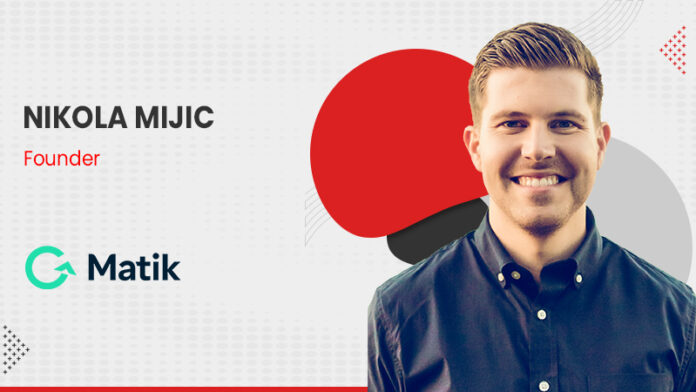 Hi Nikola, could you tell us about your professional journey so far?
Prior to starting Matik, I have mostly been in roles and companies that focused on helping customer success teams retain and grow customers. At LinkedIn, I built internal tools that helped them leverage LinkedIn data in their presentations and be more efficient while doing so. I was the first non-engineering hire at Bluenose Analytics, where we built a platform that used predictive analytics to engage at-risk customers and identify drivers of churn.
What challenges did the COVID-19 pandemic pose for you and your team?
The pandemic-related challenges can be grouped into two categories. Much like other companies, the first centered around how we function as a company in this situation. Fortunately, we already had remote team members so we knew how to collaborate without an office, and it was just about scaling that to everyone. Maintaining culture was also a priority.
The second group category of challenges was more around how do we sell during this challenging time of uncertainty. And that ended up  being less challenging than we had expected because of the nature of our product. Because one of the core benefits of the Matik platform is increased efficiency and productivity, we saw that demand for it continued.
What sets Matik apart from the competition?
Many products similar to Matik are built with the data & ops teams primarily in mind. The actual end user of the content, the customer-facing teams, often have a difficult time actually being able to use it. Meaning that even after the data-driven content is generated by the tool, there is still a lot of lift on their part to making it customer-facing and also a lot of limitations in terms of what they can do to it.
At Matik, we not only focused on making sure that the data & ops teams could easily set up and iterate on data-driven content, but we also made sure the customer success and sales teams using the content had something that would work as they needed it to and were pretty much customer ready.
Also Read: IT Digest: Interview with Natalia Vasilyeva, Vice President Marketing, Anzu.io
Can you give us some insights about what data-driven presentations are?
Data-driven presentations are simply presentations that leverage data, and transform it into insights that tell a story. A good example of this are business reviews conducted by customer success teams. These presentations are filled with data around how a customer is using the product, and use the data to quantify the value the product is delivering them. It's more than just tossing a bunch of metrics on a slide – the important part is helping the customer connect the dots by making it a story.
Ultimately, data-driven presentations are critical to helping build trust between customers/prospects and a company. With these kinds of presentations, you can build credibility by showing through data, versus just telling. I like to call it data-driven trust – it's trust built by sharing data as proof.
How, according to you, has the Marketing and Sales landscape evolved and will evolve in the coming years?
The part that's always been changing is the relationship between marketing and sales, essentially the company, and the customer. More importantly, it's how the company can build trust and credibility. As customers become savvier, it becomes more challenging for companies.
A good example is email personalization – nowadays it's become an expectation and customers know that it's not hard for companies to do. The natural next phase here is leveraging all this data that companies have, and using it in conversations with customers to show versus tell, and build that data-driven trust.
How do you see the Sales Enablement sector evolving over the years to come?
Sales enablement will need to include empowering non-data savvy team members to be able to use data in their day-to-day work. It's more than just using data to inform strategy and approach, but actually helping sales teams weave that data into their communication with prospects and customers. The most successful sales teams will have a sales enablement team that helped make data more accessible to them.
How, according to you, has Marketing Automation impacted the traditional Sales and Marketing funnels?
Marketing automation has been such a great driver in terms of making the funnel more efficient, and also making interactions between the company and prospects more meaningful through scaled personalization. There's still a lot it can do though, and that next part is incorporating data into those company-prospect interactions.
Could you name the Top 5 apps/platforms that you use for Sales?
Salesloft
Salesforce
Gong
LinkedIn Sales Navigator
ZoomInfo
Could you name one other Founder that you would like to see featured here?
Kat Orekhova, the Co-founder and CEO of Vareto. She's personally given me a lot of good advice around hiring and building a team.
Any advice you would like to give to the budding marketers?
Be quantitative and let the numbers be a guidepost.
Thanks, Nikola!
Also Read: IT Digest Interview with Sergio Serra, Product Head, InMobi