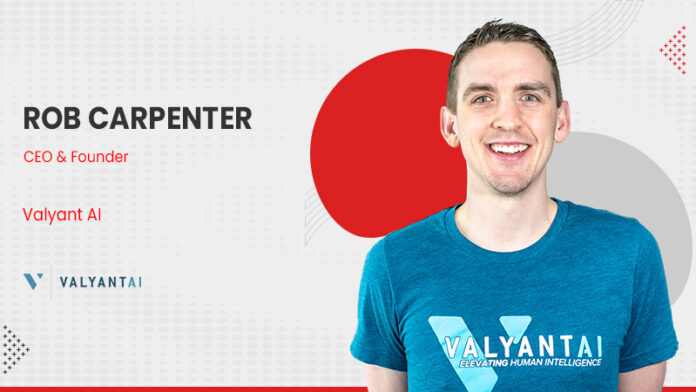 Hi Rob, could you tell us about your journey as a Tech Entrepreneur in the industry?

I am a bit of a nerd at heart. I love new and cutting-edge tech. The initial idea for Valyant was to build holographic digital employees — virtual workers with limitless applications.
At the time, conversational AI was still in its infancy and wasn't capable of delivering the type of experience we wanted to see with our holographic employees. As a result, I decided to pivot the company into conversational AI technology to build the systems I felt were needed to ultimately deliver on my long-term goals of digital employees. We will circle back to the original idea once we believe the conversational AI has achieved the level of capability, experience and fluid interaction we expect from employees. Once we do that, there are literally limitless applications for the technology, and we expect to be at the forefront of this new industry.
What challenges did the COVID-19 pandemic pose for you and your team?
During the pandemic, delivery and takeout options reached critical importance as consumers sought to minimize their contact with individuals from outside of their "pandemic pods." Challenges related to the industry-spanning labor shortage and the "Great Resignation" are also affecting QSRs. The industry moved from being short 800,000 employees before the pandemic to lacking people to fill up to 1.7 million open positions today. Between increased demand and the industry-wide labor shortage, it has become difficult for QSR operators to maintain and staff their restaurants right now.
Combined, these two concerns became a critical driver for restauranteurs turning to AI systems to help keep their restaurants running. For instance, if two of three staff members don't show up for work, a restaurant may have to close its doors, but with Valyant's conversational AI platform, an entire restaurant can operate with just one employee preparing orders and taking payments.
Read More: IT Digest Interview With Ed King, CEO at Openprise
What sets Valyant AI apart from the competition?
The main benefits of Valyant's tech are the gaps that are being filled with labor and staffing shortages. Our unique platform integrates with existing drive-thru hardware and on-premise or cloud point of sale systems, freeing human employees to spend more time focused on customers, which streamlines the customer experience, improves employee efficiency and helps address labor shortages, especially during peak times. The AI has the ability to fill in the gaps when workers don't show up or if a location is experiencing high turnover. The platform also eases operations and increases efficiency and speed of service. Valyant's conversational AI platform has a 97% average order automation rate. We usually see average ticket size increases by 15% to 20%, which is solely driven by AI-powered suggestions in upsizing, adding desserts, etc.
The additional benefits we see with conversational AI technology include mitigating theft by handling the order process from start to finish. Plus, AI can help deliver consistent customer service experiences regardless of staffing levels and management consistency because the AI never fails to show up for a shift, leaves mid-shift or requires constant training due to the turnover. Ultimately, these types of systems provide a more streamlined experience for everyone involved. 
Within the hospitality industry, there are currently 1.6 million unfilled positions and the average turnover for restaurant employees is 150% – 300% per year. As one restaurant owner stated, "the only light at the end of the tunnel that I see for our labor challenges are companies like Valyant." We deliver stability and predictability to restaurants that are struggling to staff and maintain their restaurants. Another owner told us their restaurant has to maintain 3 full-time employees on average to stay open; on one day in January only one employee showed up to work at that restaurant, but since they were using Valyant's AI "Holly", that restaurant was able to stay open and continue running. On top of that, Valyant's technology has demonstrated the ability to increase topline revenue at restaurants by 15% – 20% due to consistent upselling of the most profitable items. The reason we've been able to be disruptive within our industry is we are helping to mitigate an existential challenge related to labor scarcity and drive additional topline revenue through upselling. There is no other technology currently on the horizon with the ability to deliver that level of change within our industry.
How, according to you, has technology in the food and beverage landscape evolved and will evolve in the coming years?
This is an industry that has not always been tech-driven — it has been motivated by customer service, the customer experience and delivering high-quality food. From my perspective, I believe the restaurant industry has been among the last to adopt new technology, like mobile apps, kiosks and social communication channels. However, as more companies like McDonald's and Yum! Brands hire tech-focused leaders and begin investing in new restaurant technology initiatives (while continuing to provide great services and products), we will start to see the restaurant industry shift from laggards to early adopters, helping to push new technologies forward. Due to the pandemic, and more technology-focused leadership, we are seeing a general trend where the restaurant industry is moving from being a late adopter of technology to an early adopter. Conversational AI is one area, but additional applications include self-driving cars and drones for food delivery.
How do you envisage AI technology evolving, in the years to come? 
We always want to keep the customer front and center. New technologies like self-driving cars and drones can help with the issues related to last-mile delivery. Conversational AI can help with staffing shortages, providing consistent guest experiences and revenue increases for the small-business owners who own and run most restaurants. Additional areas include the movement toward sourcing healthier ingredients, providing products like Beyond Meat and Impossible burgers that are not as taxing on agriculture as traditional livestock and getting rid of single-use plastics and other items that ultimately end up in trash bins and can hurt our environment over the long term. Lastly, I would love to see conversational AI that can speak and understand all languages and understand people from all backgrounds and geographies. The future is an exciting place and quick-serve restaurants are currently investing a significant amount of time and effort to advance beneficial new technologies into the market.
How, according to you, do innovative technology solutions impact the sectors where traditionally humans are expected such as restaurants?
Innovation is the lifeblood of Valyant. We are literally at the forefront of inventing an entirely new product category that helps to do work (order taking) that use to be the exclusive domain of humans. This has been a monumental engineering challenge and one our extremely talented and dedicated team in Denver has risen to meet. The idea of taking Siri or Alexa to the enterprise is not new, but the reality is very few if any Voice AI companies have made significant progress in this space. By contrast, Valyant now counts some of the biggest restaurant chains in the country as customers. This includes Checkers & Rally's, Del Taco, Burger King, Hardee's, Carl's Jr., and Arby's. Given our talented team of local engineers, we've been able to build a product with the ability to operate at near-human levels for accuracy, understanding and speed, in a space where Google, Microsoft and IBM have all failed to date.
Could you name the Top 5 apps/platforms that you use for your business?
Everyone on the team spends A LOT of time talking to our AI "Holly"
Slack. It's the prime way everyone communicates in Valyant.
Jira for managing all of our development and new features.
Confluence for retaining and sharing domain knowledge.
Google Calendar. It's the only way I'm able to arrive on time for things.
Your top pick for a book/paper on Artificial Intelligence that everyone should read?
Rethinking Consciousness by Michael S.A. Graziano.
As a Tech Leader and Entrepreneur, what is the one piece of advice you would give to those who wish to enter the MarTech world?
As the saying goes, "Just do it." There is never a right time or right market to start a new company. The key to success, in my opinion, is time and experience (and a lot of hard work). Down markets will shake out a lot of companies, and if you can successfully thrive, then you have a company that is built to do extraordinarily well in up markets too.
Thanks Rob!
Read More: IT Digest Interview With Hersh Patel, Founder and CEO at Hindsight