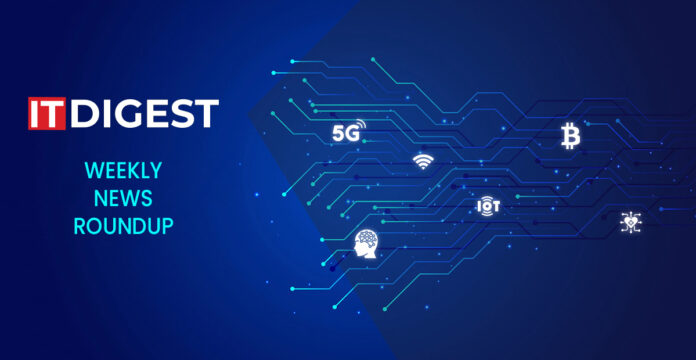 Here is IT Digest's weekly roundup of the top news from global markets. In this fast-paced world, breaking down information helps readers grasp the nuances that follow the news.
In 5G Technology news this week…
Stephen Bye Joins DISH Network Board of Directors. DISH Network Corporation announced it has named Stephen Bye to its Board of Directors, effective January 18, 2023. Since 2019, Stephen has served as the DISH Wireless Chief Commercial Officer supporting the development and commercialization of the company's standalone 5G network.
In Business Technology news this week…
Coupa Celebrates a Decade of Inspire with an Assist from Earvin "Magic" Johnson. Earvin "Magic" Johnson and Coupa Software are forming the next dream team. The three-time NBA MVP, entrepreneur, and philanthropist will keynote Coupa Inspire, the flagship global business spend management (BSM) community event.
UST Earns Azure Expert MSP Recognition from Microsoft. UST,a leading digital transformation solutions company, has been named a Microsoft Azure Expert Managed Service Provider (MSP). This achievement from Microsoft is the latest in a long line of recognitions that UST has earned from partners for its commitment to industry-leading performance and service.
In Cloud Computing news this week…
Cogitativo Appoints New Strategic Advisor. Cogitativo announced that it is appointing Renee Oshinski to a senior advisor role. Renee will work alongside Cogitativo executives to assist with the integration of the company's cutting-edge precision health solution into the nation's largest healthcare systems, including the Veterans Health Administration (VHA).
Virtana Delivers Google Cloud Support with Early Access Bill Analysis in Cloud Cost Management Solution. Virtana, a leading provider of AI-driven solutions for hybrid cloud management and monitoring, announced early access availability of its Google Cloud support for bill analysis within Virtana Cloud Cost Management.
In Computer Science news this week…
NumberOne AI appoints Chris Hatter as Operating Partner. NumberOne AI is pleased to announce the appointment of Chris Hatter as Operating Partner. Chris brings a wealth of first hand operating experience in the technology and data industry and will be a valuable addition to NumberOne AI's mission to learn from the past to predict the future.
Impakt Launches Its Metaverse Fitness App 'vSports' on App Store and Play Store. Impakt, a global leader in body tracking and body analysis computer vision software, is excited to announce the launch of their metaverse fitness app, vSports, on both the Google Play and App Store.
In FinTech news this week….
Databento and Napatech collaborate on solutions for real-time financial data. Databento – the world's first platform to offer market data on a usage-based pricing model and Napatech™ the leading provider of programmable Smart Network Interface Cards (SmartNICs) for Data Processing Unit (DPU) and Infrastructure Processing Unit (IPU) services in telecom,
Switch Reward Card Expands Beta Testing. Switch Reward Card, a blockchain-based financial services ecosystem that offers debit payment solutions for both traditional and cryptocurrencies
In HealthTech news this week…
Allina Health Partners with Qventus to Improve OR Efficiency and Grow Surgical Program. Allina Health is partnering with Qventus, the leading provider of AI-powered software for care operations automation, to use its Perioperative Solution in order to automate operating room (OR) scheduling processes and maximize its surgical program
Huma to provide best-in-class digital clinical trials solutions through landmark acquisition of Alcedis. Huma Therapeutics Limited ("Huma"), a leading global digital health company, announced that it has acquired Alcedis GmbH ("Alcedis"), a market-leader for data driven clinical research and technology.
In Information and Communications news this week…
CTIA Wireless Foundation Launches Catalyst 2023, Accelerating 5G Innovation to Enhance American Communities. CTIA Wireless Foundation announced the launch of Catalyst 2023, its annual competitive grants program for social entrepreneurs harnessing the power of 5G and leading edge wireless technologies to address challenges in our communities.
Bionic Integrates with Wiz to Unify Cloud Application Security. Bionic, the industry's first Application Security Posture Management (ASPM) platform, announced a product integration with cloud security leader Wiz to provide customers with an agentless way to unify and scale their cloud and application security posture in production.