Here is IT Digest's weekly roundup of the top news from global markets. In this fast-paced world, breaking down information helps readers grasp the nuances that follow the news.
In Business Technology news this week…
Digitalization Boosts Demand for Unified ESM Platforms
Enterprises around the world are increasingly adopting enterprise service management (ESM) software to accelerate digital transformation, according to a new research report published by Information Services Group (ISG) (Nasdaq: III), a leading global technology research and advisory firm.
In Cloud Computing news this week…
FiscalNote Selected by OpenAI for Collaboration As Inaugural Launch Partner for OpenAI's ChatGPT Plug-in
FiscalNote Holdings, Inc., a leading AI-driven enterprise SaaS technology provider of global policy and market intelligence, announced it has been selected as one of 14 inaugural "trusted partners" – and the sole provider of legal, political, and regulatory data and information.
Hevo Data Strengthens Data Integration Offering with Google Cloud Ready – BigQuery Designation
Hevo Data, the leading no-code Data Pipeline platform, has announced their new Google Cloud Ready – BigQuery designation, attesting to the quality standard of their BigQuery integration and further boosting customer confidence in reliability.
In Computer Science news this week…
Appy Pie Design Announces AI Photo Enhancer
Appy Pie Design, the online graphic design software has launched AI Photo Enhancer – an AI-powered platform that enhances the quality of images, making them visually striking and appealing.
VSBLTY Names Digital Media, Analytics & Technology Expert Luiz Barros as Executive Chairman
VSBLTY Groupe Technologies Corp., a leading software provider of AI-driven security and retail analytics technology, announced that Luiz Barros has joined the company as Executive Chairman. Already a member of the Board, Barros has a successful track record as an entrepreneur, and as an intrapreneur leading industry-recognized business and digital transformation for Fortune 100 companies and global advertising agencies.
In FinTech news this week….
Britive Receives $20.5M Series B Funding to Support Surging Customer Growth
Britive, the cloud identity security platform, announced it received $20.5M in Series B funding to support surging customer growth and soaring interest in the company's dynamic and intelligent privileged access management platform.
In HealthTech news this week…
Andor Health and Oradox Partner to Bring Open AI & GPT to Dental Care Management
Andor Health, the company reinventing virtual health as a platform, partners with Oradox, a dental specialty service organization.
In Information and Communications news this week…
Xoriant X-CELERATE Insights Analytics Solution Now Available in the Microsoft Azure Marketplace
Xoriant announced the availability of its X·CELERATE Insights analytics solution in the Microsoft Azure Marketplace, an online store providing applications and services for use on Microsoft Azure. Xoriant customers can now take advantage of the productive and trusted Azure cloud platform, with streamlined deployment and management.
Article of the Week
Slaying Data Storage Concerns: Cloud Storage At Your Service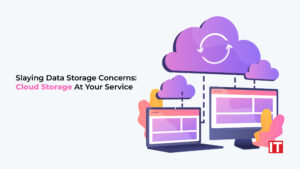 From storing in the attic to storing on the cloud, data storage has changed places. Though, not its importance. Your data is a valuable asset that needs to be in reliable safe storage away from all malicious intents.