Products of Smartification Era: What Are Smart Toys?
Smart Toys have recently become a kid-friendly attraction. Toys are becoming smarter for the next generation of children as the smartification era begins. As the world becomes more connected via the Internet of Things (IoT) and computers feature more and better machine intelligence or artificial intelligence (AI), the world of children's toys in modern societies is revolutionized in ways that go beyond touchscreen and multimedia technologies.
Coming to the question of how to define smart technology, there is no clear-cut definition of a smart toy. A lot of marketing hype has led to the misconception that any toy that contains a computer chip, has some pre-programmed functions, or has multimedia capabilities is smart.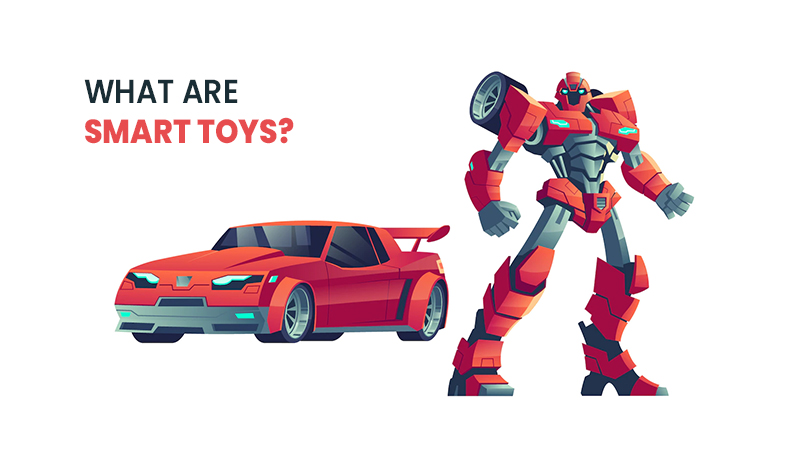 The way its on-board machine intelligence enables a play or learning experience for the user that simulates human-like intelligence best describes a smart toy. These intelligent toys can learn from and communicate with the user, change their behavior, perform interactive actions, and personalize learning lessons.
Benefits of Smart Toys
A smart toy is best described by the way its on-board machine intelligence enables a play or learning experience for the user that simulates human-like intelligence. These intelligent toys are capable of learning from and communicating with the user, changing their behavior, performing interactive actions, and personalizing learning lessons.
Social Skills
When children play with smart toys, they improve their perception and reasoning skills. Smart toys assist children in developing a train of thought while conversing. Furthermore, embedded toy games such as puzzles or quizzes stimulate cognitive processes and develop their ability to think freely. But the most important thing is that children learn about appropriate social interaction, bad and good attitudes, and feelings and emotions.
Creative Thinking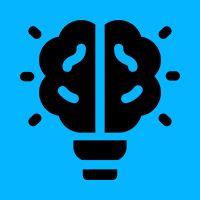 When it comes to children's games, imagination is everything. While playing, every child creates an entire new world around their toy. And if the toy can assist them in furthering the evolution of this world, as well as encourage interest and exploration, it is becoming extremely valuable. Building blocks can be used to construct hundreds of structures, and smart toys should be similarly open-ended, with a variety of applications and capabilities.
Education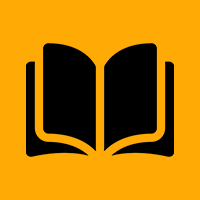 Our electronic environment is becoming increasingly connected as time passes. That's an important process for kids, but the sooner they interact with computers, the better their skills will be. Some toys teach core STEM disciplines as well as basic programming. And these toys are becoming increasingly popular, particularly among working parents.
Types of Smart Toys
Smart toys are rapidly getting integrated into the lives of kids today. Not only that, but they are now available in different types and age groups as appropriate. Each of these have a specific type of 'smartness' incorporated as part of smart toys. 
Artificial Intelligence and Robotics
As artificial intelligence and robot technology became more affordable, they were incorporated into a variety of children's toys. This not only provides a new interactive experience, but it also has the potential to extend the life of more traditional toys with online features.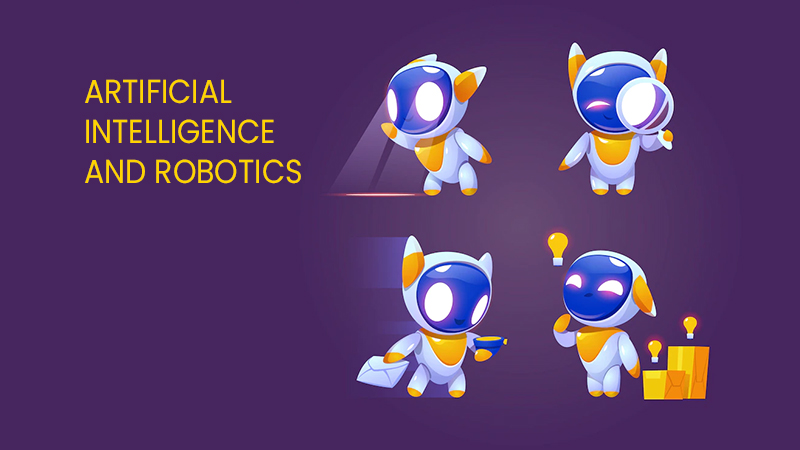 These robotic toys that change from one thing to another on their own fascinate children. Watching these robot toys play, dance, and hop along with them is extremely intuitive for children of all ages. These toys have an amazing sound for kids, they move around, and they are made of a harmless plastic material that is safe for children to use.
Connected Toys
Many of the toys that children today want for their birthdays and holidays will be technological in nature and may even connect to a smartphone or the internet. This means that you should understand exactly what a toy does before giving it to your child to ensure its safety. Recent popular examples include the My Friend Cayla doll and a similar Hello Barbie doll that can connect to the internet and respond to vocal information requests via search functionality.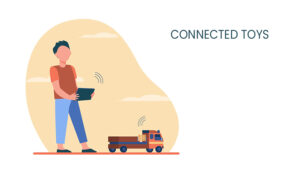 Connected toys provide numerous advantages because they can extend the play experience over time. However, before handing it over to a child, make sure you understand the parental settings. Parents should pay close attention to how, when, and where data from the child's use of the toy is shared, as well as any cost implications associated with its use.
Virtual and Augmented Reality
Virtual reality (VR) is a hot new gaming trend. There are several options. Although many of these games are aimed at teenagers and older players, there are some excellent titles for children as well. The VR headsets, which are worn over the eyes and ears, allow children to enter a virtual 3D world that is frequently, but not always, an interactive game.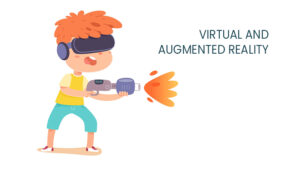 Augmented Reality (AR) provides a similar experience, but it combines the real world with an overlayed experience that extends (or augments) things into the realm of fantasy. This can range from as simple as locating creatures in your garden to as fantastic as identifying stars in the night sky.
Internet of things (IoT)
Internet of Things (IoT) toys are children's toys that contain special sensors and firmware that allow for personalized interactions with children. IoT toys, unlike traditional toys, can collect, use, and share data over the internet. As a result, these toys are also referred to as internet-connected toys or simply connected toys. IoT toys can be smart depending on their purpose, but even if they aren't, they are always linked to an online server or platform.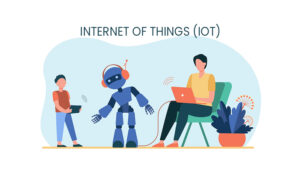 Challenges of Smart Toys
Connected toys can recognize speech and carry on a conversation; they can even take a photo or locate a child. Currently, millions of parents purchase IoT toys without realizing that they may pose a serious risk to their children. Many people are concerned about the privacy and security of IoT toys because many toymakers did not pay enough attention to this when designing them.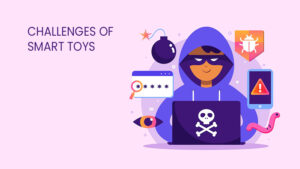 Some people are concerned about the security of sending sensitive data about themselves to cloud servers. Other issues concern the proper storage and use of private information, which may be shared with third parties and used unethically. Furthermore, cloud servers and online platforms can be compromised, putting a user's credentials, a child's identity, and other personal information at risk.
Cyber attackers can take control of a connected toy, turn it into a listening device, and communicate directly with a child if proper security and privacy are not in place. Criminals may use a connected toy to track a child's location for the purpose of socializing, kidnapping, or even attacking them. Hackers can also take explicit photos of a child and use recordings of their child's voice to blackmail parents.
Preventative Measures
Recent cyber attacks on connected toys have revealed how little consideration was given to the security of these IoT toys and their mobile applications when they were designed. It appears that some security issues were known but not addressed prior to the launch and hacking of a connected toy. However, given the potential consequences of hacked toys and the increasing competition in the IoT toy market, the security of connected toys should be prioritized during development. Based on best practices, here are some recommendations for protecting IoT toys from hackers.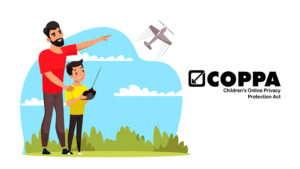 Manufacturers of connected toys sold in the United States must adhere to the Federal Trade Commission's Children's Online Privacy Protection Act (COPPA). This rule applies to internet-connected devices, including IoT toys. This act requires businesses to safeguard children's personal information, obtain parental consent before collecting sensitive data, and comply with other privacy requirements.

When pairing the toy with Bluetooth, use strong authentication. You can accomplish this by using a different default password for each product, implementing two-factor authentication, and even using a biometric fingerprint scanner on a mobile device. Furthermore, limit the toy's connection to only one mobile device at a time.

Encrypt data as it is collected, stored, and transmitted from the toy to the Wi-Fi access point, cloud server, or third parties. Strong encryption standards, such as HTTPS and TLS, ensure secure communication. You can also add random data, known as salt, to make it more difficult for attackers to compromise your product.

Limit your IoT toy's networking capabilities to those that are absolutely necessary for its operation. This reduces the possibility of your connected product being used in DDOS attacks. Limit physical and administrative access to the cloud server, such as blocking unauthenticated firmware updates or creating a whitelist of IP addresses.
Ethical Smart Toys
Despite these serious risks, ethical and responsible smart toys are being created. The Smart Toy Awards have established four key governance criteria for companies creating AI-powered toys: data privacy and cybersecurity; accessibility and transparency; age appropriateness; and healthy play.
Despite these grave dangers, ethical and responsible smart toys are being developed. The Smart Toy Awards have established four key governance criteria for companies developing artificial intelligence-powered toys: data privacy and cybersecurity, accessibility and transparency, age appropriateness, and healthy play. Many companies are developing smart toys while keeping ethics and responsibility in mind. Companies that design and develop smart toys must follow our governance criteria.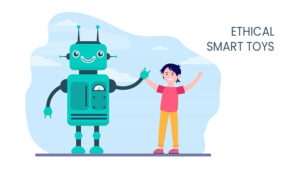 Childhood is a sacred time for parents, and they will go to any length to safeguard their children's experiences. This will not be possible unless stakeholders from the private, public, and nonprofit sectors collaborate to create ethical, responsible, and innovative smart toys that preserve and promote the essence of childhood.
Inferring On This..
Parents nowadays always give their children various types of smart toys, knowing that it may help their children develop other skills. Yes, smart toys can provide a wide range of intelligence features that are beneficial to your children's overall development. But keep in mind that, despite being the most recent forms of entertainment, they can still endanger your child's life. It's not that these aren't appropriate toys for your children. It is simply to raise awareness that every parent should limit their children's playtime with smart toys.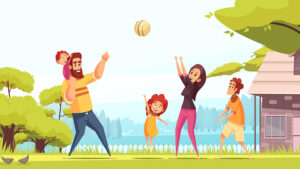 Read More: Industrial Smartification: How Smart Devices are Redefining the Future