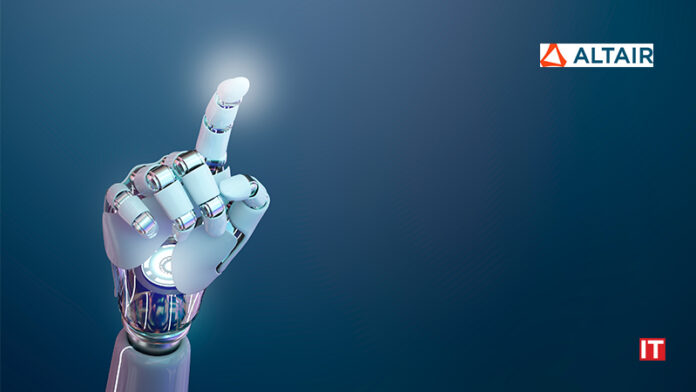 Altair, a global leader in computational science and artificial intelligence (AI), announced the rebrand of its entire data analytics and AI suite as Altair RapidMiner, uniting all data analytics technology into one platform. Following the acquisitions of RapidMiner and World Programming, the Altair RapidMiner platform offers comprehensive end-to-end solutions from data ingestion and modeling to operationalization and visualization. Additionally, the platform is now available via Altair Units, delivering a new generation of Frictionless AI capabilities to customers.
"Altair RapidMiner removes barriers to effectively connect three of an organization's most important assets: data, people, and processes. With an unrivaled and complete set of tools to transform organizations, we are paving the way to a frictionless future," said Sam Mahalingam, chief technology officer, Altair. "The platform enables users of all skill levels to accelerate projects from idea to production, modernizes legacy environments, and caters to enterprise needs with desktop and cloud offerings. We meet you where you are and evolve with your company, wherever you go in the future."
Also Read: Flywheel Software Announces First-of-its-Kind AI Audience Builder
The Altair RapidMiner platform delivers breadth and depth across the analytics lifecycle with unique capabilities that overcome the most challenging obstacles organizations face along their digital transformation journey.
Most notably, Altair RapidMiner:
Scales AI initiatives without requiring a big team of data scientists or expensive services engagements. Organizations can upskill their workforce so users from novice to expert can leverage the tools needed to provide data-driven insights.
Empowers users to extract and prep data easily from any source, working with reports and PDFs that are core to the business.
Alleviates the pressure of modernizing expensive legacy environments. Teams can create, maintain, and run SAS language programs, models, and workflows directly in a multi-language environment (e.g. Python, R, SQL).
Gets more models into production. Teams can operationalize models faster and monitor them continuously across one shared MLOps environment.
Processes and displays massive amounts of fast-changing data. Users can build sub-second streaming, batch, and business intelligence (BI) data applications.
Whether an organization requires end-to-end or composable analytics, Altair RapidMiner enables customers to deliver the right tool at the right time to their diverse teams.
SOURCE: PR Newswire