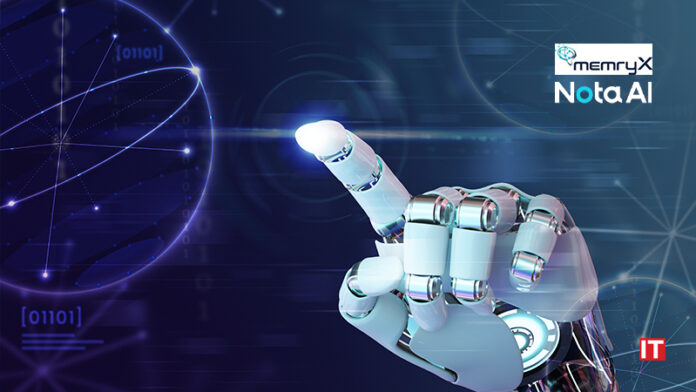 MemryX Inc., a pioneering startup focused on accelerating artificial intelligence (AI) processing for edge devices, announced it has formed a partnership with Nota.ai, a leading AI ISV, to streamline the development, testing, and deployment of AI models on MemryX's advanced AI accelerator chips.
MemryX's edge AI chips have broad application in the transportation, IoT, robotic, industrial, and edge computing industries. They feature high-performance and low-latency AI processing using a proprietary at-memory computing and dataflow architecture. Developers can now leverage Nota.ai's software platform to search, compress and automatically deploy artificial intelligence models on MemryX edge AI processors.
The partnership allows AI developers to quickly port models to MemryX advanced AI chips slashing deployment times from weeks to days. Developers can rapidly design, validate and test new AI algorithms on physical hardware while benefiting from MemryX's unique architecture that offers low-power, high performance, and low latency.
Also Read: Flywheel Software Announces First-of-its-Kind AI Audience Builder
"Nota.ai and MemryX's products are complementary, effortlessly resolving AI engineers' development and deployment pain points," noted Keith Kressin, President & CEO of MemryX. "Nota.ai's optimized and compressed AI models targeted to run on our AI accelerators deliver a cost effective and highly performant solution. We're thrilled to partner with Nota.ai because they have a proven solution stack, and together, we can enable the next generation of edge AI solutions."
The tight relationship between Nota.ai's software stack and MemryX's hardware opens the door to rapid deployment of advanced AI solutions. Among the first is Nota.ai's Driver Management System (Nota DMS), a lightweight off-the-shelf AI-based driver monitoring system that can substantially improve road safety.
Available to vehicle manufacturers, the Nota DMS solution encompasses driver identification, drowsiness detection, distraction detection and unsafe driver behavior detection. NetsPresso's hardware-aware AI model optimization and compression platform allow the embedded AI models in Nota DMS to run unmodified and fully optimized on MemryX hardware.
MemryX AI accelerators support all popular AI software frameworks, including PyTorch, ONNX, TensorFlow and Keras; all popular processors, including x86, Arm and RISC-V; and all modern operating systems, such as Linux, Windows, and Android. Hundreds of AI models have been verified on MemryX silicon which is sampling now to numerous customers with production planned Q4'23.
SOURCE: PR Newswire