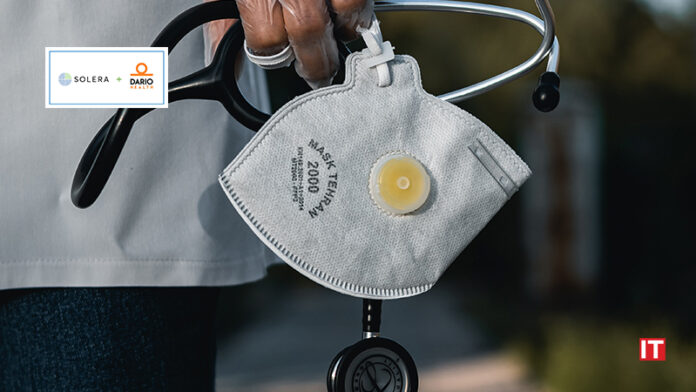 Solera Health, the premier platform for connecting people seamlessly and easily to proven, personalized health solutions, announces its partnership with DarioHealth, a leading digital therapeutics company revolutionizing how people with chronic conditions manage their health through a user-centric platform. Together, Solera and DarioHealth are offering a turnkey, world class solution for treating hypertension, requiring just one contract and one technical integration to make this compelling new solution quickly available for payers' and employers' member populations.
Dario's hypertension solution offers access to a hyper-personalized experience that combines a Bluetooth or cellular-connected blood pressure monitor, a smart app that provides tracking, feedback and user specific content, and specially trained health coaches to provide one-on-one support. Unique program elements include rewards and gamification to maintain engagement and the ability to add blood glucose, weight, diet and activity data to provide a holistic view of a patient's health that users can easily share with a physician to align and improve health outcomes.
"Chronic conditions like hypertension can be difficult to manage, especially when in conjunction with multiple other diseases or symptoms," said Mary Langowski, CEO, Solera. "According to the CDC, nearly half of adults in the U.S. experience high blood pressure, and the prevalence increases with age. We are thrilled to expand Solera's offerings to patients with this condition through our partnership with Dario, as well as continue strengthening relationships with our health plan partners by empowering them to offer accessible, best-in-class digital health solutions."
Cardiometabolic conditions include both cardiovascular and metabolic diseases such as hypertension, obesity and diabetes. The addition of Solera's curated network of hypertension solutions allows users with these intersectional conditions to take a more comprehensive approach to managing their health.
Also Read: MobiDev Explains AI Application Development Stages for Business Owners
Hypertension contributes up to $198 billion in healthcare costs annually and employee absenteeism related to hypertension costs employers more than $10 billion each year. By driving sustainable lifestyle modifications, ensuring medication adherence and offering accessible and continuous care, these digital solutions help address the gaps in hypertension care.
Dario provides patients with person-centric support through a combination of medical devices, smart technologies and mobile applications designed to engage, inspire and motivate users to make Dario a part of their daily journey towards healthy living. Dario's commitment to diversity, inclusion and health equity ensures consistent and continuous improvement in serving everyone with a chronic condition, and all communications through the platform are tailored to user preferences. With accessibility in mind, Dario offers tools and resources to help individuals manage and improve overall health based on their own lifestyles and symptoms.
"We are excited to partner with Solera and share our digital hypertension solutions with their payer and employer clients," said Rick Anderson, President & General Manager of North America of DarioHealth. "Dario is committed to improving access and quality of care for individuals with hypertension by expanding the reach of our highly personalized solutions. This collaboration with Solera expands our ability to reach patients and continue our mission of transforming care for people with chronic conditions."