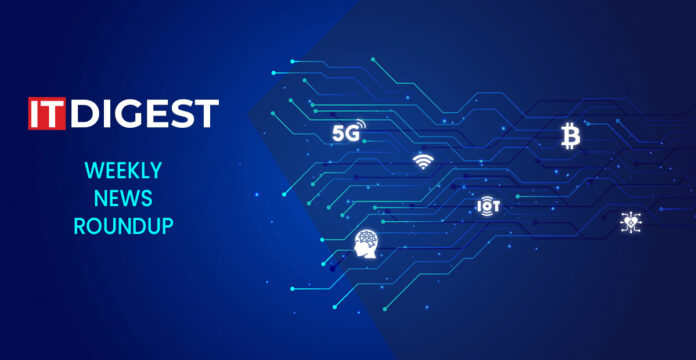 Here is IT Digest's weekly roundup of the top news from global markets. In this fast-paced world, breaking down information helps readers grasp the nuances that follow the news.
In Digital Transformation news this week…
Detroit Free Press Names DMI a Winner of the Michigan Top Workplaces 2022 Award. DMI, a global digital transformation services company, has been awarded a Top Workplaces 2022 honor by The Detroit Free Press Top Workplaces.
The list is based solely on employee feedback gathered through a third-party survey administered by employee engagement technology partner Energage, LLC. The anonymous survey uniquely measures 15 culture drivers that are critical to the success of any organization, including alignment, execution and connection, to name a few.
Accolite Digital Announces Acquisition of TeamTek Consulting to Accelerate Growth in EMEA & APAC .  Accolite Digital, a leader in cloud and digital product engineering services, announced that it has acquired TeamTek Consulting, a UK headquartered leader in digital services for the Banking and Financial Services sector. TeamTek will continue to serve as a strategic partner to enterprises focused on their Capital Markets digital transformation initiatives.
In Cloud Computing news this week…
Arlington, Virginia Adopts RapidDeploy to Improve Outcomes of 9-1-1 Calls .RapidDeploy, the leader in cloud-native mapping and analytics solutions for Public Safety, announces that RapidDeploy Radius Mapping has been selected by Arlington, Virginia as their new 9-1-1 map. Radius Mapping is currently live in multiple 9-1-1 centers in the Washington, DC area, including Alexandria and Montgomery County, with more coming before the end of the year.
Cohesity Ups the Ante on Data Security and Management at AWS re:Invent Cohesity, a leader in data security and management, announced its participation in AWS re:Invent 2022, an in-person and virtual global cloud computing conference running November 28 – December 2 at Mandalay Bay Hotel in Las Vegas, NV. Cohesity will host attendees at booth #425 where they can learn more about data protection, cyber resiliency, and data security best practices for Amazon S3.
In Computer Science news this week…
Juniper Networks Singapore Wins HR Asia's 'Best Companies to Work for in Asia 2022' Award . Juniper Networks , a leader in secure, AI-driven networks, announced that it has been recognized as one of the 'Best Companies to Work For' in Singapore by HR Asia, Asia's most authoritative publication for HR professionals.
ClariPi Joins Siemens Healthineers Digital Marketplace . ClariPi Inc.announced that its ClariCT.AI software will be released on Siemens Healthineers' Digital Marketplace, which provides an open and secured environment for a wide range of healthcare stakeholders to share, access, and analyze data. It is the entry point for connecting users with an ever-growing portfolio of applications from solution partners and Siemens Healthineers, covering clinical, operational, and financial functions in healthcare delivery, and enabling them to get the most out of users' healthcare data.
In FinTech news this week….
OTP Bank Selects Bloomberg as Sanctions Data Provider. Bloomberg announced that OTP Bank, member of OTP Group, one of the largest independent financial service providers in Central and Eastern Europe, has selected Bloomberg as its data provider to support OTP Bank's pre-trade and post-trade securities sanctions compliance.
DataSeers and Fintainium Announce New Partnership . Atlanta-based fintech DataSeers and Jacksonville-based FINTAINIUM announce a new partnership to further expand FINTAINIUM's unified cash flow management platform. FINTAINIUM will be using DataSeers' industry leading SaaS solutions like IdentitySeer and ReconSeer to help financial institutions attract, retain, and grow business relationships.
In HealthTech news this week…
Mintal Tracker Lets Users See Their Dreams – Again . Mintal Tracker, a sleep tracking app driven by artificial intelligence (AI) technology that offers a scientific approach to healthier sleep, announced an AI-generated art feature called "Draw My Dream," which utilizes AI to transform a dream into a concrete, shareable image.
Raintree Systems Unveils EMR Mobile App for ABA Providers . Raintree Systems, a leading provider of electronic health records (EHR) and revenue cycle management (RCM) software solutions for the therapy and rehab industry, announced the release of a mobile app for Applied Behavioral Analysis (ABA) providers that vastly simplifies daily note taking during patient visits and enables better management of complex billing scenarios.
In Information and Communications news this week…
The 3 Stages of the Data Privacy Maturity Curve .  As data privacy regulations and enforcement penalties pick up pace, so do uncertainties for businesses. Many compliance regulations over the last 20+ years, including the Health Insurance Portability and Accountability Act of 1996 (HIPAA), the HITECH Act, PCI-DSS, and others, have set a historical precedent for what's inevitably to come in data privacy compliance.
Openbravo announces its acquisition by leading French group DL Software .Openbravo, the Spanish vendor of a unified commerce platform for agile and innovative commerce, has announced that it is joining DL Software, a leading France-based group of vertical software providers which is on an ambitious path to internationalize its business footprint.