Are you a passionate gamer seeking a device that can support your demanding, high-performance gaming needs? Or perhaps you're a casual gamer searching for a laptop that won't break the bank but can handle your favorite titles. Regardless of your gaming requirements, a gaming laptop can be the answer you're looking for. Gaming laptops provide an exceptional balance of performance and portability thanks to their potent processors, cutting-edge graphics cards, and stylish designs.
In recent years, gaming laptops have advanced significantly. Today's sleek, portable gadgets can run the newest games with ease in place of the once-expensive, cumbersome equipment that could not compete with the power of desktops.
In this blog, we'll delve into the world of gaming laptops and examine the most recent developments, products, and benefits that make them a popular option for players of all skill levels.
What's New in Modern Gaming Laptops?
In recent years, there have been some important advancements in gaming laptops. NVIDIA GeForce GTX 1650 graphics cards will make up 21.7% of the market share for gaming laptop graphics cards in 2020, according to the Steam Hardware & Software Survey. The use of NVIDIA's Max-Q design, which enables manufacturers to make thinner, lighter laptops without losing performance, is one of the most noteworthy examples. Max-Q laptops are made to operate at maximum efficiency while maintaining low temperatures and quiet operation, making them perfect for mobile gaming.
The use of panels with refresh rates of 144 Hz or greater is another innovation in gaming laptops. Games look smoother and more fluid on these high-refresh-rate screens, which can display up to 144 frames per second. They come in particularly handy for action-packed games like first-person shooters, where millisecond decisions can change the outcome.
Other notable innovations in gaming laptops include:
RGB lighting: Many gaming laptops today come with programmable RGB lighting, enabling you to customize the appearance of your laptop and design a distinctive gaming environment.
Thunderbolt 3: This fast data transfer standard enables you to simultaneously connect several devices to your laptop. For gaming laptops, which frequently need extra accessories like gaming mice and external storage drives, this is especially helpful.
Dual-channel RAM: Some gaming laptops now include this feature, which offers a substantial performance improvement over single-channel memory.
The leading gaming laptop manufacturers in 2020 were Acer, ASUS, Dell, HP, and Lenovo.
Difference between refurbished gaming laptops and used gaming laptops
Refurbished gaming laptops are frequently difficult to tell apart from brand-new ones. A refurbished gaming laptop is a computer that has been repaired to look and function like a brand-new one. Laptops that have been refurbished must pass the same stringent tests and inspections as brand-new equipment. In truth, a lot of reconditioned gaming laptops run and seem identical to brand-new models.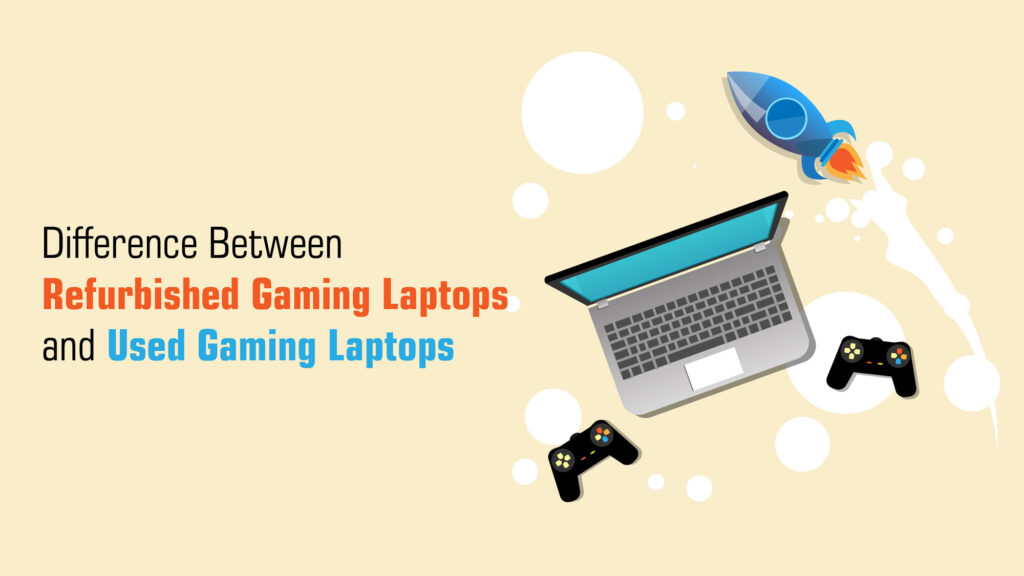 Buying used gaming laptops might be risky. Used gaming laptops may have greater wear and tear, whereas refurbished gaming laptops have been restored to like-new condition. When you buy a used gaming laptop, you run the chance of it having problems that aren't immediately obvious. For instance, the battery may have deteriorated over time, or the apparatus could be suffering from hidden internal problems.
What's Viral Among Gaming Laptop Products?
There are many excellent gaming laptops available nowadays, but the following three stand out:
Razer Blade 15: The Razer Blade 15 is a stylish and potent gaming laptop that comes equipped with an Intel Core i7 processor, an NVIDIA GeForce RTX 3070 graphics card, and a 15.6-inch Full HD display. It is also portable due to its thin and light construction.
ASUS ROG Zephyrus G15: This potent gaming laptop from ASUS comes with an AMD Ryzen 9 processor, an NVIDIA GeForce RTX 3060 graphics card, and a 15.6-inch 144Hz screen. Additionally, because of its lightweight and small design, it is perfect for gaming on the go.
MSI GS66 Stealth: Equipped with an Intel Core i7 processor, an NVIDIA GeForce RTX 3080 graphics card, and a 15.6-inch 300Hz display, the MSI GS66 Stealth is a high-performance gaming laptop. With a black finish and adjustable RGB lighting, it also features a sleek and stealthy appearance.
Advantages of Gaming Laptops
In the United States, a gaming laptop will cost an average of $1,326 in 2020, according to Statista.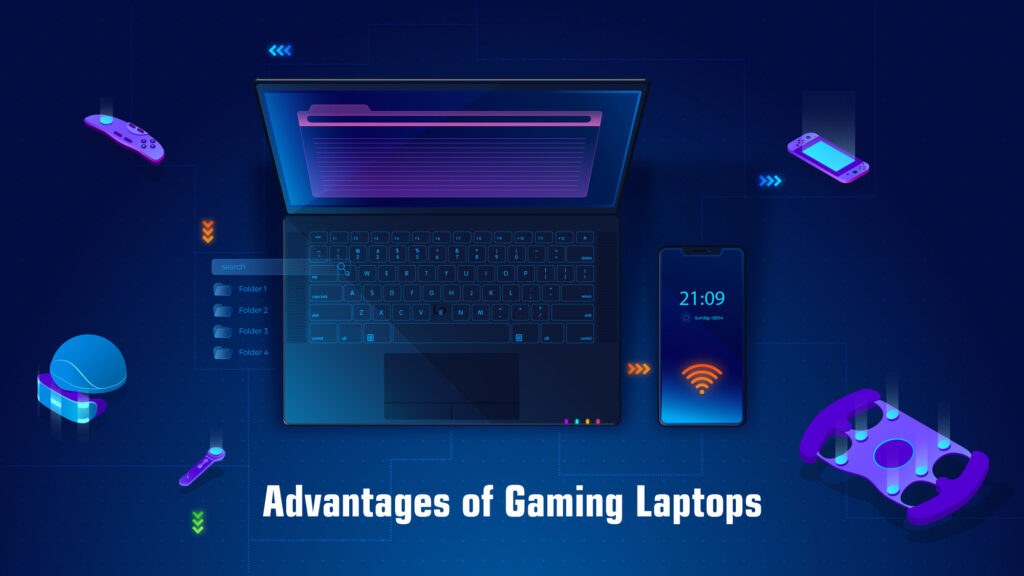 A gaming laptop has several benefits over a desktop PC, including:
Portability: A gaming laptop's portability is one of its main benefits. It is the best option for gamers who want to play games when traveling or visiting friends because you can take it with you everywhere you go. On the other hand, a desktop PC needs to be permanently set up and is not portable.
Saving space: Compared to desktop PCs, gaming laptops are small and take up less room. A gaming laptop is an excellent option if you have a small room or flat because it can be simply packed away when not in use.
Power: Gaming laptops have plenty of power and can easily handle the newest games. Gaming laptops are a terrific option for players who seek the finest performance possible because many of them come with high-end components like potent processors and graphics cards. Although desktop computers might perform a little bit better, they are not as portable.
Customizability: Many gaming laptops provide a great degree of customization, enabling you to change elements like memory and storage to enhance performance over time. Desktop PCs have more customization choices, but the procedure is more difficult and may call for technical knowledge.
Flexibility: Gaming laptops aren't simply for playing video games. They can also be used for activities that call for a powerful computer, like business and school. On the other hand, desktop PCs are often only used for business or gaming.
Price: Although gaming laptops might be pricey, they frequently provide better value than desktop PCs. Thibecause that they are more adaptable, portable, and functional. Additionally, as technology develops and competition rises, gaming laptops become more affordable.
The benefits of a gaming laptop versus a desktop PC ultimately depend on personal requirements and tastes. A gaming laptop is a terrific option if portability and adaptability are important to you. A desktop PC can be a better choice for you if you value raw performance and customizability more than anything else.
Conclusion
Gaming laptops have several advantages over desktop PCs, including portability, space-saving, power, customizability, versatility, and affordability. They are an excellent option for people who want to play games on the go, have little space, or require a multipurpose computer that can be used for business, school, and other duties.
With constant advancements and product releases, gaming laptops have advanced significantly in recent years. Gaming laptops continue to push the limits of what is possible in portable computing, from potent processors and graphics cards to premium displays and cutting-edge cooling systems.
There is a gaming laptop out there that is ideal for you, regardless of whether you are a casual or dedicated fan. Since there are so many alternatives, it's crucial to conduct your research and pick a laptop that fits both your needs and your budget. Overall, those who want to play the newest games and appreciate the portability and convenience of mobile computing should consider investing in a gaming laptop.