Metaverse is a word everyone would have heard at least once in their lifetime. The world is continuously evolving and with that how people want to experience life is also transforming as well.
We are living in an era where a significant change in the history of humankind is going on, transforming lives, and our lives are destined to overlap with this metaverse. With all the fuss going on about metaverse, the inevitable question lurks around the corner: What do the next 5 years with metaverse look like?
Will it follow the grand scheme of planning as people expect or is it bound to fall, let's have a look.
Virtual social connections can be made in the Metaverse realm, which combines virtual reality, and augmented reality. Neal Stephenson first used the term "metaverse" in his 1992 science fiction book "Snow Crash," where he described lifelike avatars interacting in realistic 3D buildings and other virtual reality settings.
However, the term only gained widespread recognition when Facebook, now known as Meta, adopted it to define its aspiration for working and playing in a virtual environment.
What is Metaverse?
The term "metaverse" refers to a general change in how we engage and communicate with technology in this rapidly expanding environment rather than any particular form of technology. Furthermore, it's completely feasible that the metaverse will eventually become as out-of-date as the specific technology it previously defined.
In general, the technologies that make up the metaverse can include augmented reality (AR), which blends elements of the digital and physical worlds, and virtual reality (VR), which is characterized by persistent virtual environments that persist even when you're not playing. It is not necessary, though, for users to access those environments only through VR or AR.
Now that we know what metaverse is, let's jump and have a look at how the next 5 years with metaverse will be.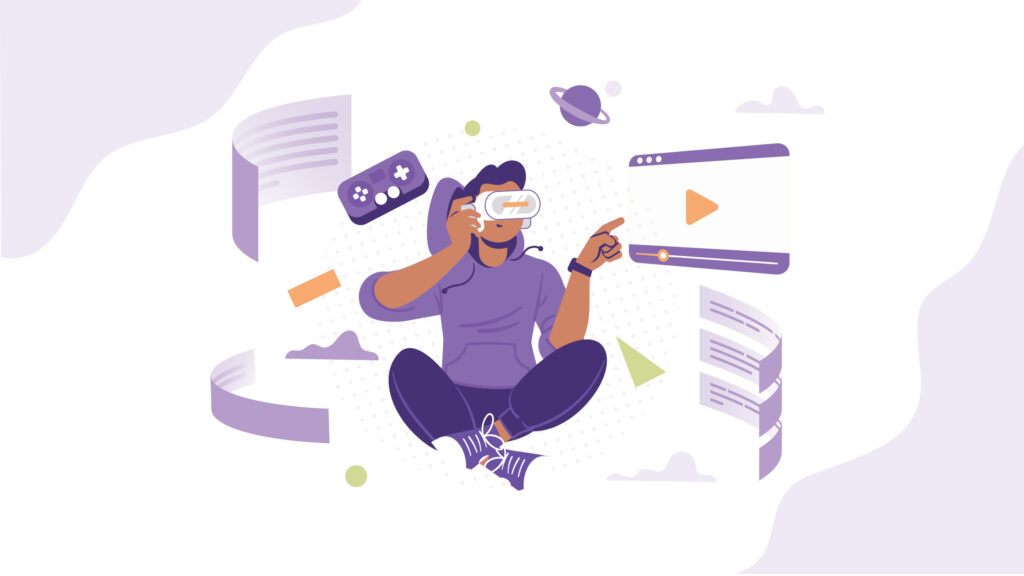 Next 5 Years With Metaverse: A Prediction
Technophiles view the metaverse as ideal nirvana: a place where they may immerse themselves in any virtual reality and take part in any physical reality at any moment. They are able to perceive and experience anything, even if they are hundreds of miles away from the actual location. We still yet to know the future of the metaverse.
Multiverse Metaverse:
A single, interconnected ecosystem, similar to the internet, serves as the foundation for the expansive metaverse goal. There will probably be independent metaverse worlds with distinct economies and the capacity for transferring assets and items between worlds in the near future.
Eran Elhanani, the co-founder of the gaming and metaverse ecosystem GamesPad, anticipated that the majority of firms would establish a presence, whether they were engaged in the sale of an enterprise or retail e-commerce goods. Numerous prominent corporations, including Nike, Adidas, Gucci, and Tiffany, have already entered the metaverse. The larger ones "will probably have a presence in several big [metaverses], just like having stores in several cities," Elhanani said.
Land of Real Estate:
Real estate and land are valuable resources in the real world, which raises the issue of their worth in the metaverse. The actual world will likely reflect and acquire certain traits from the metaverse, and the laws of supply and demand will impact the worth and cost of virtual land and real estate.
The value of land in the metaverse is significantly influenced by location, just like in the real world. The distance from the metaverse's center and the caliber of the neighbors are the two elements that determine a location's value. The purchasing habits of numerous international celebrities have provoked contentious debates on the subject of investing in virtual properties.
Due to cultural variations in the way people comprehend and perceive the metaverse, the trend may not gain as much traction in China as it has in the West. As opposed to the East, which is based on Eastern philosophies and culture, the metaverse seeks to reflect the physically quantifiable reality in a way that can be understood by rationale.
The East would still need some time to come around to the idea of a world that could be rationally quantified. As a result, investing in virtual land and real estate in China is still speculative and involves risk. It is unclear whether price swings will level off as the idea becomes more well-known or if they will continue to soar and collapse abruptly.
Arrival of Digital Twins:
The arrival of digital twins is the most anticipated change for everyone looking towards witnessing what the next 5 years with the metaverse look like.
Enterprises currently simulate business processes using processes such as mining and capture technology. Improvements in 3D capture methods, like lidar, are modeling physical assets in the meantime. In order to "recreate their entire organizations, complete with systems, infrastructure, and people utilizing digital twins in the metaverse," businesses will combine these strategies and others, according to Frank Diana, managing partner at Tata Consultancy Services.

Digital twins are already starting to emerge in a variety of industries to improve productivity and better plan and prepare for the anticipated and unpredictable, such as stress-testing supply chains or manufacturing operations. But as Diana pointed out, "the usefulness of digital twins today can go far further. For instance, IT teams will be able to spot gaps in their backup and recovery procedures, and managers can look into new arrangements, resources, and procedures to boost output and well-being.
Meta-first: Next 5 Years with Metaverse leans towards Meta world
The first thing that rushes to our minds when we think of buying something is to order it online.  Enterprises may now digitally test new products, services, and business models and scale the most profitable ones into physical channels with the use of mobile and social channels. According to Carina Rolley, director of the digital customer experience at IT consulting firm Capgemini North America, businesses will shift from just being digital-first to being meta-first.
More goods will be introduced in virtual marketplaces, occasionally even before a physical equivalent is manufactured. Businesses will be in a better position to comprehend what customers want, collaborate with them to develop new products and share knowledge with their product development and marketing teams.
Universe of Robotics Era
The metaverse is not just for people. Apurva Shah, CEO of Duality Robotics, a producer of digital twin software simulation, claims that the enterprise metaverse would assist engineers in developing smarter robots.
Engineers will be able to address problems that are otherwise too expensive, time-consuming, or impracticable by using high-fidelity simulations of real-world situations, such as factories, warehouses, building sites, and mines. These virtual testing, validation, and optimization environments can produce superior synthetic data on edge cases that are challenging to discover in the real world. They can also be used to determine how various robot setups and functions might coexist or even cooperate.
Conclusion
With the endless opportunities in the metaverse universe, the world is surely gearing up for an attractive, content-rich, immersive experience. The metaverse's advancements seem to indicate that it is a quickly evolving technology with lots of room for future expansion and innovation. Nonetheless, there are still questions regarding its full growth and important factors that must be taken into account as it continues to transform the world around.