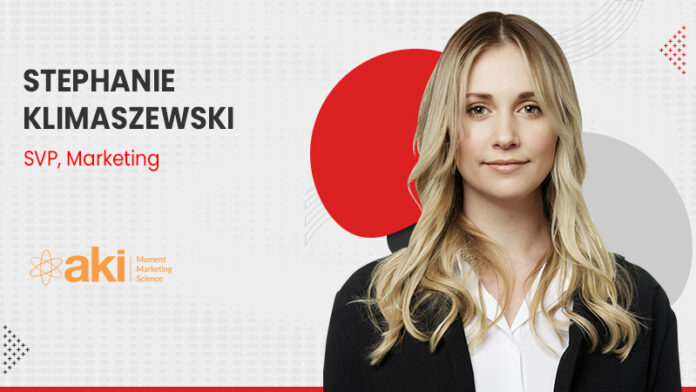 B2B Tech companies are uniquely resourced and incentivized to drive Metaverse innovation forward faster than many other categories, which is why I believe B2B Tech will not only leverage the Metaverse to drive their marketing, but will be on the forefront of shaping it.
Hi Stephanie, could you tell us a little about your journey and where it all started for you?
When I was considering undergraduate majors, my uncle advised, "If you want to have the most fun possible in your career, choose advertising." Majoring in advertising launched my career in advertising technology and has inspired my professional mission to elevate the marketing and advertising industry from fragmented and annoying to brilliant, value-adding and transformative.
How has the pandemic affected your team and your productivity?
I feel very fortunate that my team has thrived to a surprising degree despite the pandemic. I attribute that success largely to pre-pandemic communication, goal and cultural practices that carried over and delivered major competitive advantages. We have team members all over the country, so we were already savvy with remote communication and Zoom long before offices went into shelter-in-place. Strong alignment through company OKRs (Objectives and Key Results) kept everyone expertly focused on priority tasks without daily in-person interaction. The emphasis that our leadership team puts on team-bonding activities led to virtual fitness and improv classes, and even a virtual film festival we called Zoomapalooza, where teams recreated a 5-min clip from classic films, followed by a virtual viewing party and awards ceremony. These practical and innovative practices skyrocketed productivity and morale and drove landmark year-over-year growth despite the pandemic.
Read More: IT Digest Interview with Matt Keating, Sales Director at VDX.tv
What sets Aki Technologies apart from competition?
What makes Aki unique are the two foundational pillars of our technology, which are our moments and personalization. Aki's moments are a combination of pattern recognition and machine learning, used as a mechanism and a proxy for understanding the consumer experience. Aki's patented personalization technology, which can generate up to hundreds of thousands of possible permutations from one core asset, dynamically renders advertising creative that's tailored to each viewer based on their region, local weather and buying preferences. Together, moments and personalization ensure a more relevant advertising experience for consumers and drives stronger campaign results for brands and retailers. In
September 2021, Aki became an Inmar Intelligence company, which enabled access to a vast and rich amount of first-party retailer insights and analytics that further sets Aki apart from the competition.
How do you see the Sales Enablement sector evolving over the years to come?
I foresee the Sales Enablement sector becoming much more consultative and holistic, focused on enabling clients with true solutions versus a product suite. Those who will succeed in the sector will serve as partners and advisors as opposed to vendors. It's important to have a fundamental understanding of the customer's business to empathize with their needs and offer valuable support. From a digital marketing perspective, as everything shifts more omnichannel and into the metaverse, Sales Enablement teams will be less focused on the screen and device-type and more integrated and centered around virtual and physical experiences. As the sector evolves, to continue winning in media, it will be about highly designed, screen agnostic experiences and less about impressions allocated to certain devices.
How do you see Marketing Automation impacting the traditional Sales and Marketing funnels?
I see Marketing Automation as a double-edged sword. At their best, Marketing Automation tools can optimize the traditional Sales and Marketing funnels, yet still disconnect marketers from customers' needs by reducing them to gross metrics rather than enabling the kind of direct interaction that inspires the smartest and most authentically driven marketing decisions. This is the classic push-pull between quality and scale. I've seen some exceptions to this. For example, an NLP (natural language processing) tool that scans your customer's language patterns to recommend a compatible communication style. Leveraging Marketing Automation that maintains or enhances authentic customer interactions is key.
What are your thoughts on B2B Tech companies leveraging the Metaverse to drive their marketing?
We experience a significant part of reality through our mobile devices. The device-agnostic integration of virtual and physical worlds is the promised land of the Metaverse. Assuming the right care and safeguards are implemented, this is an exciting frontier for all marketers and media creators, regardless of their company affiliation. B2B Tech companies are uniquely resourced and incentivized to drive Metaverse innovation forward faster than many other categories, which is why I believe B2B Tech will not only leverage the Metaverse to drive their marketing, but will be on the forefront of shaping it.
Top 5 apps that you use for business?
GIPHY: Perhaps, an unexpected choice. I use this app daily in support of Aki's "kudos" culture. We publicly recognize employees for their exceptional work via a platform Aki uses called Reflektive, tied to a company-wide #kudos Slack channel. GIFs bolster recognition posts with positivity and personalization, which helps staff feel uniquely celebrated. An appreciated staff is a retained staff.
Voice Memo: Another unexpected choice. I use the voice memo app regularly to capture customer soundbites. On client calls that are centered around feedback, I'll ask the client if they mind if the conversation is recorded. It's so beneficial to receive and share feedback in the customer's specific words.
LinkedIn: An obvious choice. Aside from the networking and learning benefits, its analytics reaffirm everything I know about the power of storytelling.
Slack: A second most obvious choice. It keeps me in lockstep with my team as we scale.
Ally: The Ally app helps me track Aki's daily progress toward OKR goals and set my team's priorities accordingly.
What advice would you give to someone who aspires to be a 'marketing success'?
Readily adapt to meet the needs of your customer. Reframe your competitors from companies who offer similar products and services to anything that's in the way of your customer's path to success.
Your top pick for a book on leadership that everyone should read?
Writing that Works by Kenneth Roman and Joel Raphaelson. The better you communicate, the more effectively you'll lead.
Could you name one person that you would like to see featured here?
Kelly Burke of SFBig, Breezemont group and the Bay Area Advertising & Marketing Mentor Program.
Thanks Stephanie!

Read More: IT Digest Interview With Amanda Costanzi, Head Of Marketing And Communications At Swisslog Healthcare