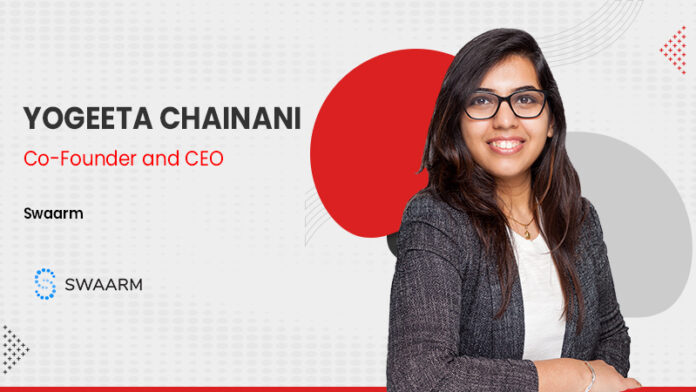 Hi, Yogeeta, did the COVID-19 pandemic pose any specific challenges for you and your team?
We launched Swaarm in the midst of the COVID-19 pandemic meaning that we had to transition into a fully remote work setup right from the beginning. It was crucial for us to ensure that our team can operate in a safe and comfortable working environment. Adopting employees that had worked together in person before to a remote environment as well as hiring new team members who we had never met in person was overall an interesting challenge, especially at the start of our company.
Fortunately, we are a team of digital natives capable of adapting to changes rapidly. Despite the challenges that a fully remote setup can bring, it also opened up hiring opportunities, provided our employees with more flexibility, and limited restrictions when it comes to finding talent globally.
To ensure that employees feel connected and new hires feel just as included, we have a personalized onboarding process in place as well as daily stand-ups and regular one-to-one meetings. We have built a strong workforce, with team members located in Germany, Denmark, India, and Lithuania. 1.5 years later, we are very proud of what we have achieved together.
What sets Swaarm apart from the competition?
Swaarm is a performance-based tracking platform that helps our clients manage, analyze and optimize their marketing campaigns in real-time. Our intuitive platform helps partner affiliate networks, advertisers, and agencies benefit from the power of automation to grow their businesses at scale.
From day one, Swaarm was created by listening to our client's needs and by identifying the pain points of their day-to-day operations. We're proud to be the first martech tracking platform perfected with clients' input, right from the start. This innovative approach helped us achieve a critical goal: to provide a solution that enables customers to automate repetitive tasks and make better decisions in a faster way based on data insights.
Since entering the market, we have earned the trust of major industry players like Clearpier (Canada), Spykemedia (Germany), and Apptrust (Poland). We achieved this by staying true to four core values:
Flexibility – Offering our clients flexibility by constantly developing our products in line with their needs. Our adaptability is our greatest strength, making Swaarm a more powerful solution for all clients.
Ease of use – Providing a solution that is easy to use, making actions faster and more efficient.
Affordability – Offering a premium solution at an affordable price thanks to our unique and hyper-efficient infrastructure enabling our clients to save time and money.
Data reliability – Ensuring data reliability with our comprehensive data display and offering the highest level of platform stability in the industry.
Also Read: IT Digest Interview with Joseph Lospalluto, US Country Manager, ShowHeroes
How do you see Ad-tracking Solutions evolving over the years to come?
From a product point of view, we're seeing more demand for automation that enables marketers faster and more precise decision-making. There will always be a human element of data analysis that cannot be substituted by machines, but particularly repetitive and mundane tasks can be done much more efficiently by a machine.
With that in mind, we launched our analytics tool Explorer – a product that allows clients to slice and dice data as they need, gaining access to critical insights for daily advertising campaign operations faster than any other platform.
Flexibility also needs to be embedded in today's tech companies. As we have seen with Apple's iOS 14 changes last year, the mobile industry at large has had the need to pivot advertising quickly – so agility is essential when technology or regulations can shift on a dime.
Shortly after Apple revealed it would be restricting access to the IDFA on iOS 14, we were the first in the market to develop and launch our Privacy Enabled Attribution (PEA Chain) which allows clients to continue capturing campaign and traffic sources throughout the whole advertising network chain in-line with Apple's privacy regulations. Since then, we are happy to share that many other players have followed our lead to enable PEA in their platforms, making us pioneers in industry innovation.
In terms of new innovations, the performance marketing ecosystem is constantly evolving – which definitely keeps things interesting! Clients are looking for solutions that will allow them to scale fast and remain flexible in the face of new regulations. This is where we see the importance of innovation and adaptability come into play.
As CEO, I am heavily involved in product development and I believe it will be more important than ever for ad-tracking solutions to always be one step ahead of any changes within the industry, in order to help clients navigate the growing complexity with ease over the years to come.
What role do you see tracking platforms playing, especially in brand growth?
Our clients can be any company who wants to run digital advertising campaigns. So, when it comes to brands, they can use our platform to measure their campaign results and effectiveness and get more information about their target audience. They can access crucial insights and get answers to questions like:
Where is the user coming from?

Which is the right channel and source to run advertising campaigns?

What was the best performing partner (website/source)?
This is critical information for any company running digital advertising campaigns in order to scale and deliver results. By providing innovative solutions and features, tracking platforms like Swaarm will allow businesses and brands to achieve that goal.
As a business leader, what metrics do you use to define success?
One of the main success metrics for me is customer satisfaction. I believe that keeping your clients happy is one of the most crucial factors in maintaining a successful business and a great emphasis on customer satisfaction can give your business an edge over your competitors.
We built Swaarm with the customer in mind and we are incredibly proud of our client support services and the feedback we receive from clients. Not only do we receive 5-star reviews on the review platform Capterra for our excellent customer service but we have also been awarded 2 "Best" badges, based on the great ratings our customers gave us. Happy and satisfied clients are not just loyal but also act as brand ambassadors and recommend your products or services to others.
At Swaarm, a core pillar of our product strategy is innovation. This is another success metric for me as we strive to bring innovative features to our clients that deliver transformative value for their businesses. We're constantly developing our platform to keep up with clients' needs and new market requirements. Since the launch of the company, we have developed several major features, including the Privacy Enabled Attribution (PEA Chain), to overcome the challenges that came with Apple's introduction of iOS 14, the powerful analytics tool "Explorer", as well as a triple feature release.
Additionally, I believe in a proactive approach toward new market requirements in order to stay ahead of the curve. By leveraging a combination of technology and the expertise of our team we strive to get ahead of known issues and provide customers with the tools before it's even needed. Together with the team, I am already busy working on several new features, which we are very excited to share soon. 
As a Business leader, what is the one piece of advice you would give to those who aspire to the C-suite?
My advice would be to make sure you're aware of all important privacy changes – and ensure that your partners and suppliers are, too. Especially with recent shifts in the industry and those still to come, marketers should take this time to build better, stronger relationships with their users and work closely with their partners to adapt their services. As challenging as these changes can be, there are equally as many opportunities – and limitations, like we're seeing now, are often what can trigger an industry to innovate.
Your top pick for a book on leadership that everyone should read?
One of my favorite books is "Lean In" by Sheryl Sandberg. It provides plenty of ideas and tips that will help us reevaluate and learn how to manage our personal and professional lives. Even though it focuses heavily on the challenges women face in the business world, I think it is a cultural manifesto for the modern world that every single person should read irrespective of their gender.
Thanks, Yogeeta!
Also Read: IT Digest Interview with Diane Murray, EMEA Strategy Lead, Progress Software