Peer-to-peer lending platforms could be an excellent option for borrowers who don't have the perfect credit score. It is also ideal for lenders who are looking for an extra financial investment opportunity.
These platforms are a breath of new air, offering a direct and transparent outlet for borrowing and lending, whether you're someone looking for a loan or an investor hoping to increase your fortune.
P2P lenders increase your chances of approval by coordinating loans with numerous investors. Typically, applying online and receiving a decision promptly. Your loan could be disbursed in a matter of days if it is authorized. We evaluated peer-to-peer lending platforms aka P2P based on APRs, loan periods, fees, and rates of return for investors to help you select the best business.
Before going any further, let's understand briefly about peer-to-peer lending platforms and how their origin.
What are Peer-to-peer lending platforms?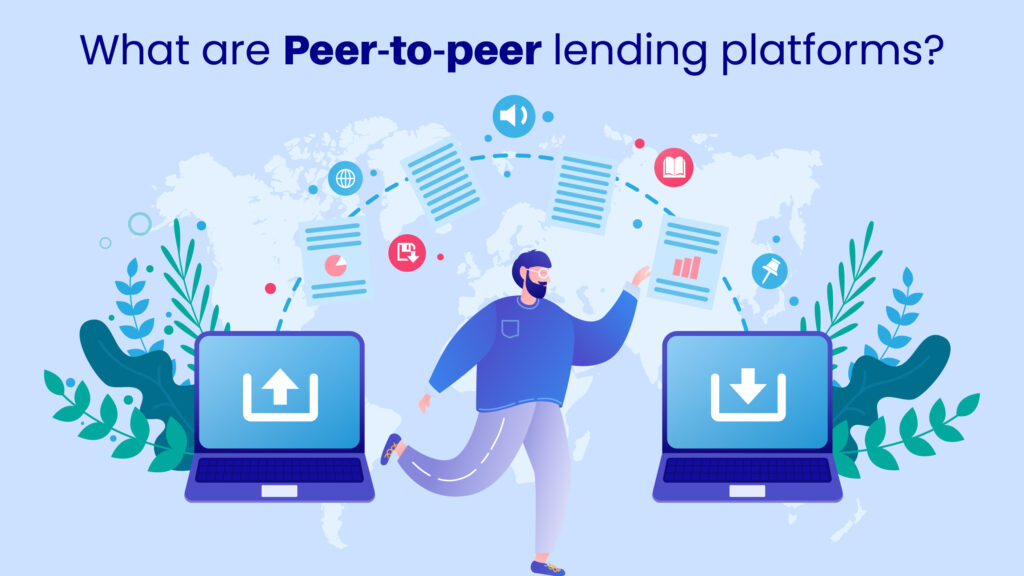 Peer-to-peer lending, sometimes referred to as P2P lending, enables lone borrowers to get loans straight from lone investors. It serves as an alternative to conventional lending and credit institutions like banks and credit unions.
Zopa launched its internet service in 2005, marking the beginning of peer-to-peer lending. However, it didn't gain traction until the 2008 global financial crisis.
This was because…
Banks cut back on lending, and central banks lowered interest rates on savings as a way to deal with the financial crisis. As a result, consumers required a new method of borrowing, while lenders were looking for new ways to make loans.
Peer-to-peer lending has become extremely popular since then and for good reason. Compared to traditional banking, this new sort of loan can provide both borrowers and investors with several advantages.
How do Peer-to-peer lending platforms work?
Platforms that facilitate peer-to-peer lending bring together individual borrowers and investors. The fees that the platforms charge investors and borrowers are how they make money. This means that rather than obtaining a typical loan from a bank or credit union, you obtain financing from private investors who have signed up with a P2P lending platform. One person might provide all of the backing for a P2P loan. Or a group of people might work together to support a loan. P2P lending platforms frequently use algorithms and automated processes to evaluate applicants' creditworthiness, establish loan terms, and calculate interest rates. P2P loans are typically unsecured as well. This indicates that the loan is not secured by any collateral.
Some of the famous sites include LendingClub, Prosper, and Funding Circle.
Today, alternative lending models like peer-to-peer lending offer a far more effective and efficient way for you to get loans fast and cheaply.
There are several reasons for this. These consist of:
The increasing acceptance of fintech.
A considerably younger populace that uses smartphones and is accustomed to making online purchases
For convenience and to acquire low-cost loan products, borrowers are more likely to shop outside of banks and other traditional financial institutions.
Due to the liquidity crisis and credit crunch, online lending and borrowing are now more widely accepted.
Especially after COVID-19, there is a need for contactless financial service providers.
Access to high-quality information from more reliable sources.
How safe are peer-to-peer lending platforms?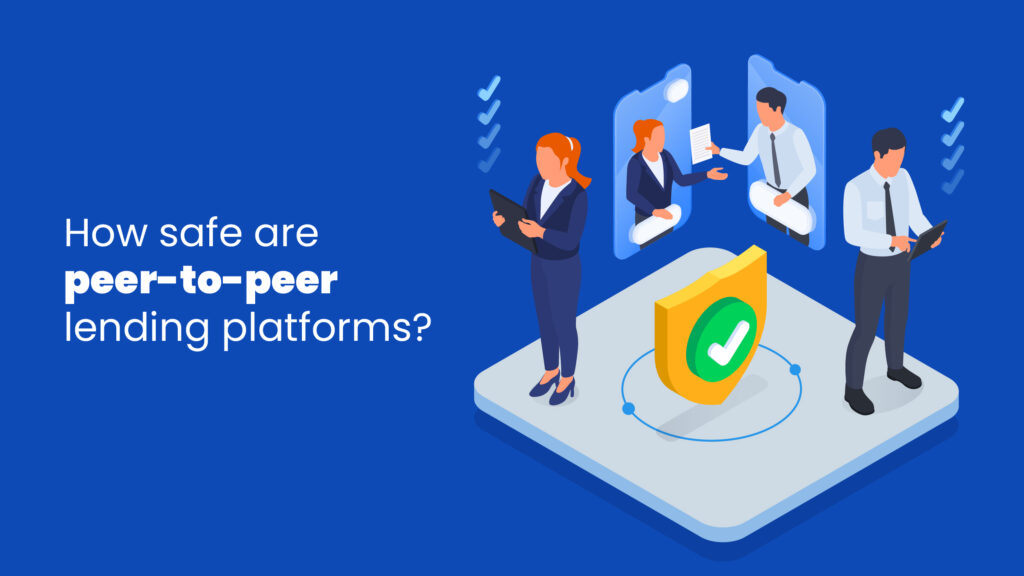 There are hazards involved with taking out any form of loan. And if you're thinking about taking out a P2P loan, you should be aware of the warning signs so you can choose wisely.
Advice on P2P lending safety
Here are some tips for securing your funds while taking out a P2P loan:
Make sure the P2P lending platform is reliable by doing some research.
Pay attention to phishing scams.
Strong passwords and multifactor authentication will keep your online accounts secure.
Additionally, the CFPB advises comparing rates before committing to a loan. Compare costs, loan conditions, interest rates, and fines for making early or late payments.
Additionally, the CFPB advises considering the entire cost of the loan in addition to just the monthly installments.
Considering a peer-to-peer loan to pay off existing debt? If so, it's critical to consider the big picture.
You should be aware of the potential long-term effects of any modifications to the loan conditions, such as converting from a fixed interest rate to a variable interest rate.
And if you're refinancing things like pre-service debt or federal student loans, know that you could lose some important loan protections. Those might include loan forgiveness, income-driven repayment programs, and more.
What are examples of peer-to-peer lending?
LendingClub, Prosper, Kiva, Funding Circle, and The Money Club are a few platforms for peer-to-peer lending. Without the assistance of conventional financial institutions, peer-to-peer lending enables borrowers to get loans directly from people and companies.
P2P loans can be used by borrowers for a range of things, including the purchase of consumer electronics, the settlement of credit card debt, house renovations, and vacations. P2P lending platforms connect lenders and borrowers for a fee and frequently operate online. They provide a mechanism for lenders to generate larger returns and for borrowers to access cash at lower interest rates.
Final Thoughts
Peer-to-peer lenders who offer consumer loans are less prevalent than in previous years, but they are still viable options for qualified customers. Working with a peer-to-peer lender may increase your chances of securing a loan if you've had trouble being approved for personal loans or business loans due to your credit.
Each lending platform comes with a set of advantages and disadvantages. Hence, it is up to you to select the best one that aligns with your business objective and goals. However, some may render Prosper as the best overall P2P lender because of its available loan amounts and relatively low credit requirements. However, you'll need to find a different lender or financing source, such as crowdsourcing, if you want a greater loan amount or require more time to repay the loan.
Additionally, if you apply for an unsecured personal loan from a bank, credit union, or online lender and have solid credit and steady income, you might be eligible for reduced rates.