The earliest memory of technology or the vague concept of it in the 1900s was telephones and television. Since then technology has evolved into a weapon of mass productivity – yes productivity and not production. 
Why productivity? Well, today, technology in business not only aids in production but also helps bring down the time required to do each job. Which in the long run is much more needed for optimal production time. 
An article by Boston Consulting Group reinforces the same, wherein they predicted that by 2025, the adoption of robotics in industries is anticipated to grow up to 25% from the present global average of 10%. 
Technology In Business in 2023: How will the impact be?
Technology in business has advanced significantly since the advent of the internet and early software use cases. Technology and business go hand in hand and have changed the world we live in, with its effects also determining how we go about our daily business. Every nook and cranny of corporate organizations has been impacted by technology, whether it is the boardroom meetings of the CEO or at the intern's cubicle.

Every company organization employs professionals who use technology apps to execute tasks and boost efficiency. Here are some ways that technical advancements have enhanced company activities.
Artificial Intelligence In The Trend
Machine learning and artificial intelligence have long been popular technology in business. By reducing insurer pain points and enhancing user experience, for instance, AI is transforming the insurance sector.

This might imply a variety of technology in business deployment planned this year, including voice assistants, customized consumer experiences, and chatbot services for online stores. In reality, increasing amounts of AI are already being used in CRM platforms, market research, and cybersecurity.
When operators become profitable, AI will also gain from this. For instance, technology company NVIDIA discovered that AI installations in retail outlets quickly paid for themselves by catching 98% of incidents of theft, fraud, or human error. IBM discovered that 35% of businesses are presently employing AI, with another 42% evaluating potential applications.
Superapps Bridging Marketing Gaps
According to Gartner, the year 2023 will mark the beginning of the mainstream creation and use of what it refers to as superapps. These apps will make it possible to combine and unify several app services into a single, user-friendly interface propelling the proliferation of technology in business. These apps can help small businesses by streamlining processes for both staff and vendors.

A growing number of third-party software connectors are also being used. Today, a business might utilize Google Drive to hold firm data, Monday.com to plan projects, Salesforce to manage clients, Outlook to deliver crucial documents, and Slack to connect teams. Unification helps to reduce and alleviate the threat posed by data silos, which is crucial.
Social Media Becomes Marketing Weaponry
More than 1,000 US consumers and 250 business leaders were polled by The Harris Poll on behalf of Sprout Social to better understand various facets of social media marketing. This revealed that 78% of customers are ready to make a purchase from a business after a pleasant social media interaction.

The way firms market and advertise their goods and services has also altered as a result of technology in business. To reach their target audiences in the past, corporations mostly used print media, like newspapers and magazines.
Today, however, businesses have access to a wide range of digital marketing techniques, including search engine optimization, pay-per-click advertising, social media marketing, and content marketing, to reach their target consumers. In addition to being more efficient than conventional marketing strategies, these digital technologies are also more cost-effective.
Communication And Employee Monitoring Takes Priority
Everyone's life in the office has become easier because of innovation in fields like social media and the creation of project management software (or working from home). Employees no longer need to physically clock in for every shift, and managers are no longer required to keep track of every project in a spreadsheet.

Additionally, productivity has increased as a result of project management technology developments with the advent of new technology in business. According to PMI research, organizations that utilize project management technology are more likely than those that don't (76%) to achieve their goals.
Since the outbreak of the pandemic and the widespread adoption of work-from-home policies, the need for employee monitoring software has been on the rise. Global demand for such software increased 58% from March 2020 to September 2022 compared to 2019, according to research by Top10VPN. The demand for this software has only increased. In 2023, there is no sign that these patterns will change or slow down.
Cybersecurity In Business Continues Proliferation
New types of fraud have emerged as a result of the transition to new working habits, with malware developing in response to increased virtual communication and the growing residential usage of office equipment all courtesy to modern technology in businesses.

However, businesses have not yet benefited from increased awareness of risk. Nearly 60% of small businesses believe it is improbable that they will be the target of a cyberattack, according to a BullGuard study. The third quarter of 2022 saw a 28 percent increase in global cyberattacks compared to the same period in 2021, according to cybersecurity firm Check Point. The total number of attacks in North America increased by 47% from the previous year.
Since so many of our daily transactions take place online or through network systems, it is easier than ever for people with malicious intentions to gain access to enormous caches of sensitive data if the right security precautions aren't taken. Cybersecurity is essential for preventing cybercrimes from affecting people, money, and information.
What Will Technology Be Like In The Future?
Technology in business trends is subject to revolutionary changes depending on a wide range of variables, such as the condition of the economy, the availability of skilled labor, and how users react to the introduction of new technology. In light of this, keep in mind that the technologies described above are expected to continue to grow during the year and into the following years based on their growing adoption, return on investment, and consumer behavior.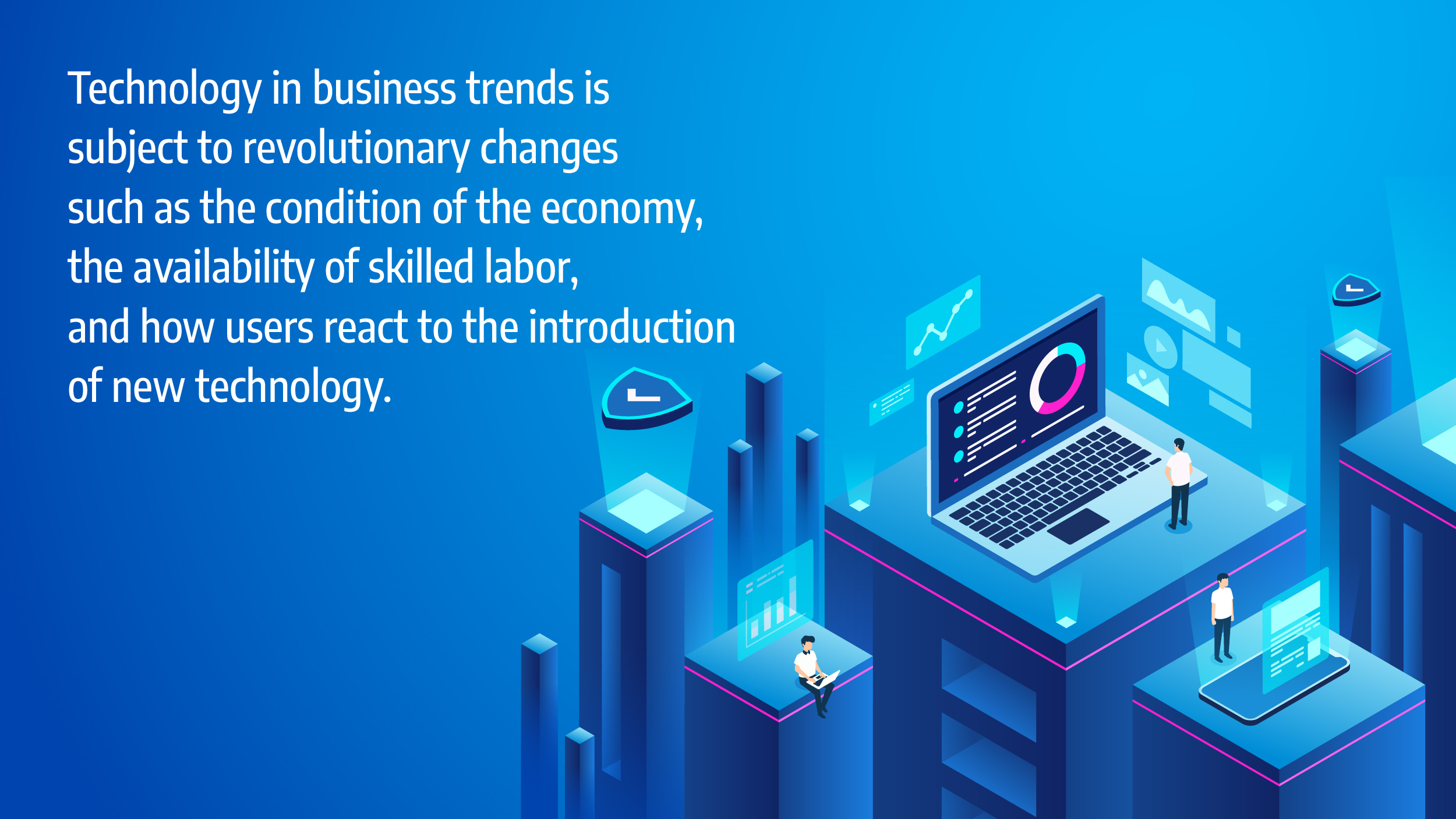 Whether it is technology growing exponentially or specifically technology for business, the wonders of technology have made globalization possible. Anybody can now conduct business from anywhere without being restricted to their room's four walls.
A larger global market reach was made possible by new business technology. The most straightforward illustration of the same is the Internet, which is currently a popular marketing tool to get more customers to take advantage of the goods and services provided by various businesses.

Technology in business ultimately made life worthwhile. However, it is undeniable that technological dangers to businesses, such as hacking and other criminal actions, are on the rise. For this reason, it is important to use new technology today responsibly.

Small and big businesses can profit easily as the technology of business becomes more widely used and, ultimately, less expensive to implement, even though the majority of technological trends will be driven by larger, enterprise organizations.