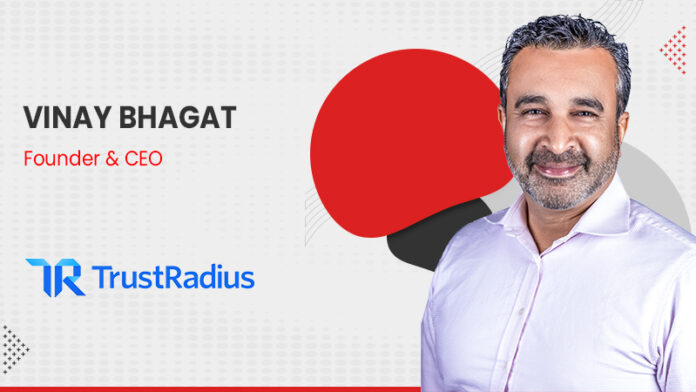 Hi Vinay, could you tell us about your journey in the IT industry?
I first joined the software industry in 1998, joining a company called Trilogy Software in Austin, TX.  I am grateful that that company brought me to Austin and also had a fabulous alumni network that I'm part of. I however was not a good fit for the company and exited after 9 months, to start my first company, Convio in 1999. Convio was an online fundraising and advocacy platform for the nonprofit sector. We helped nonprofits harness the power of the Internet to reach and engage supporters more effectively.
Over the period of 12 years we grew to $80m in revenue, a team of 450 people, went public on NASDAQ, and most importantly transformed the industry we served. When I started Convio, less than $100m was raised online globally. The year we exited, we alone helped nonprofits raise >$1 billion online.  In 2012, Convio was acquired for $325m by a larger, established competitor in the nonprofit sector called Blackbaud.
That same year, I founded TrustRadius. We're an online research platform for B2B technology buyers based upon in-depth customer reviews. A large technology purchase at Convio that went wrong led me to found TrustRadius. My HR team had procured an expensive core HR system, signed a $200k two-year contract and begun implementation before we realized that the system would not support how we handled vacation policy.  It was too late. We could not get out of the contract, and had to live with a system that didn't fully meet our needs. I asked my team what research they'd done.
They'd reviewed analyst reports, talked to references provided by the vendor and rested upon assurances from the vendor sales representative. The one critical thing that they had not done was speak to customers who had the same unique use case that we had.  That experience was an epiphany for me, understanding one's use case and how well a software addresses it is critical for a technology purchase, and that existing research methods were wholly inadequate.
Around the same time I was purchasing a high end coffee machine for my house and stumbled upon a site called Coffeegeek.com that had incredibly in-depth reviews of such appliances. I was blown away by the detail of the reviews, and pondered why nothing like that existed for business technology.  So the idea for TrustRadius was born. 
That was 2012. Since then we've grown into a platform used by more than 1 million technology buyers each month. We cover 750 different categories of software and hardware.  Our vision is to become a one-stop shop for all B2B purchasing research needs. We've added pricing, demos, product feature information and much more. 
What challenges did the COVID-19 pandemic pose for you and your team?
It was hard to forecast how we would be economically impacted, so we took a conservative approach and paused hiring for a period of time, and built out different scenarios. We put an acute focus on driving value for current customers, and hunkering down to drive efficiency.  Thankfully we not only survived but thrived through COVID and did not have to do any layoffs. Within about 6 months of its onset, we started hiring once again. 
The big adjustments were working in a remote environment, and starting to recruit a large portion of our team outside of our home office of Austin, TX.  Today almost 50% of our team are remote, including two members of our executive team.
We found that most everyone could be effective, but there was a challenge with fatigue on being on video conference calls each day. We instituted a number of changes to factor that, including a monthly self care day which we've kept up with. 
Also Read: IT Digest Interview With Nikola Mijic, Founder, Matik
What sets TrustRadius apart from the competition?
At our core, our biggest differentiation is the quality of our review content. Our reviews average 300-400 words, and some are in the thousands.  That means that our user generated content provides more insight and value to buyers.  It leads to us attracting a large audience by ranking on a wide variety of long-tail search terms.  It helps us attract a higher proportion of larger companies than our competitors – 54% from mid-market and enterprises – an audience many vendors wish to target.
It also leads to a highly engaged audience, where buyers spend 10-11 minutes on our key pages like product reviews and comparisons.  This high engagement leads to more influence and also super high quality buyer intent data, which helps brands target in-market buyers through advertising and sales engagement.  We are also the only review platform that helps vendors tell their unique narrative by customizing the questions we ask of their customers. 
This helps vendors differentiate themselves, and buyers discern the true differences between products.  The high quality nature of our content also makes it useful for brands to use in their own channels. Our vendor customers regularly syndicate quotes from their TrustRadius reviews to their website, landing pages and also feed their sales team. We have found that our content helps increase organic traffic, conversion on landing pages, and helps sales improve win rates.
According to you, how can customer reviews help in boosting sales?
65% of today's technology buyers are Millennials and GenZ. They want to self-educate before they engage with a vendor or sales person. The number one thing that buyers do today once they have identified a need is check customer reviews.  Consequently it is essential to have a robust review presence on sites that attract your target buyer. This generally means more than one platform. 
Brands that wish to target mid-market and enterprise buyers tend to work with TrustRadius.  A robust review presence leads to visibility and consideration. A high quality review presence which tells your narrative, helps lead to brand preference.  So at its core a public review presence is essential to influence buyers as they build their short list and preference set – i.e. they are a precursor to demand creation.
The second way that reviews can help boost sales is by improving conversion. Buyers trust customers more than what a brand says directly and even analyst reports. Incorporating quotes from customer reviews into customer interactions like your website, landing pages, and sales touchpoints improves conversion.  Brands using our review syndication widget on their website have been able to attract 15-30% more organic traffic to each page with the widget – which means 30% more leads and 30% more sales. 
First the content is crawled by search engines leading to ranking on more attractive category keywords. Second the widget improves engagement on the page – what Google calls page value – sending a positive signal to Google that the page is a good page, and third we can help the brand mark-up their search engine results with social proof – their count of reviews and star ratings which leads to on average a 15% higher click through rate.  More organic traffic means more prospective buyers to convert without having to spend on cost per click advertising.
Brands using our review widget on landing pages tend to see a 30% increase in conversion. That means 30% more leads (request for demos, trials) for the same amount of web traffic.  That means 30% more sales. Companies can also use content from reviews to enable sales – e.g. to build battlecards, add social proof to their claims, or enable them with tools to allow them to find the right quote for the situation, e.g. to handle an objection. This leads to more confident salespeople and improved win rates.
Last but not least, a by-product of a public review presence is buyer intent data. We track all the buyers researching your product and what they are reading, and make that data accessible for campaigns in LinkedIn, integrate with ABM systems like 6Sense and Demandbase, and with Salesforce.com. 
Since buyers are delaying the point at which they engage sales, this data gives early intelligence into which prospects are most interested.  We can also provide intelligence on which brands are evaluating competitors but not you, to make sure you avoid missing deals.
How do you envisage MarTech Analytics reshaping businesses in the years to come?
The buyer's journey is increasingly self-directed, and hence marketing will increasingly play a bigger role than sales. Strong marketing analytics will be essential, in particular having a strong ability to track a buyer's journey across your own and 3rd party venues, and to determine influence and attribution correctly
Could you name the Top 5 apps/platforms that you use for Marketing and Sales?
Marketo

Google Analytics

Heap

Chorus.ai.
Could you name one other Tech Entrepreneur or CEO that you would like to see featured here?
Manny Medina, CEO Outreach.
Your top pick for a book on Tech/Business Technology that everyone should read?
The qualified sales leader, by John McMahon – only because I am reading it currently and find it insightful.
As a Tech Entrepreneur, what is the one piece of advice you would give to someone who wishes to be a tech leader?
Be a continuous learner. Be humble. Be intellectually honest.
Thanks, Vinay!
Also Read: IT Digest Interview With Natalia Vasilyeva, Vice President Marketing, Anzu.io