Here is IT Digest's weekly roundup of the top news from global markets. In this fast-paced world, breaking down information helps readers grasp the nuances that follow the news.
In 5G  news this week…
Private wireless pioneer Betacom introduced Betacom AirGap Protection, a network architecture aimed at enhancing cybersecurity for its flagship offering, Betacom 5G as a Service (5GaaS). The new cyber defense enhancements provide multi-layered security to reduce the risk, complexity and cost of adding industrial automation and IoT applications into the enterprise environment, delivering the foundation for the next phase of economic and business evolution driven by wireless connectivity, automation, artificial intelligence, machine learning and real-time data.
In Business Technology news this week…
Mendix, a Siemens business and global leader in modern enterprise application development, announced the general availability of Mendix 10, the most powerful release of the industry-leading low-code platform. Mendix 10 introduces a host of innovations that empower organizations to meet unprecedented demand for software by enabling shifts in enterprise-wide digital solution delivery.
In Cloud Computing news this week…
Quantum, the leader in solutions for unstructured data, announced the qualification of its comprehensive enterprise backup storage portfolio with the new Veeam Data Platform, which includes Veeam Backup & Replication (VBR) V12.With this announcement, Quantum now offers a broad portfolio of Veeam Ready storage solutions, giving customers the most choice and security for backing up and protecting data.
In Computer Science news this week…
Rimini Street, Inc, a global provider of comprehensive enterprise software support, products and services, a leading provider of third-party technical support for Oracle and SAP software, and a partner of Salesforce and AWS, introduced two free online tools that work in minutes to help Oracle and SAP customers identify and take advantage of significant savings opportunities from their current ERP investments: Rimini Street Savings Calculator for Oracle and Rimini Street Savings Calculator for SAP.
In FinTech news this week….
Fireblocks, an enterprise platform to manage digital asset operations and build innovative businesses on the blockchain, expands its highly secure MPC-CMP wallet and key management technology to include support for HSMs and public and private cloud, including Thales, Securosys, AWS, GCP, and Alibaba Cloud. These flexible deployment models allow banks and financial institutions to leverage Fireblocks' industry-leading security and technology stack to quickly bring their digital asset initiatives into production while meeting their risk, compliance, and regulatory requirements.
In HealthTech news this week…
WCG, one of the world's leading providers of solutions that measurably improve the quality, efficiency, and safety of clinical research, recently announced a partnership with Mint Medical to leverage its mint Lesion radiology platform for oncology trials. The mint Lesion software is used for standardized and computer-assisted review of medical imaging according to defined protocols, guidelines, and workflows.
In Information and Communications news this week…
NetApp, a global, cloud-led, data-centric software company, announced new capabilities in NetApp BlueXP, further strengthening NetApp's position as the leading option for secure data storage. In technology landscape, data has never been more valuable or more vulnerable. Data powers operations, fuels innovation, and creates exceptional customer experiences. As such, the impact of ever-increasing cyberthreats such as ransomware attacks and potential data loss or corruption can be devastating.
Article of the Week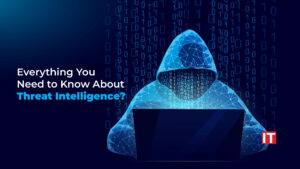 Today, digital technologies are at the core of almost every sector. The world's economic and cultural institutions have undergone a revolution due to automation and increased connectivity, but these advancements also pose a risk in the form of cyberattacks. Threat intelligence, which is frequently used interchangeably with open source intelligence (OSINT), is information that enables you to stop or lessen those attacks. Threat intelligence is grounded in data and gives context, such as who is attacking you, what drives them, what tools they have at their disposal, and what signs of system compromise to look for, to assist you in making security-related decisions.